2018 UELAC AGM and Conference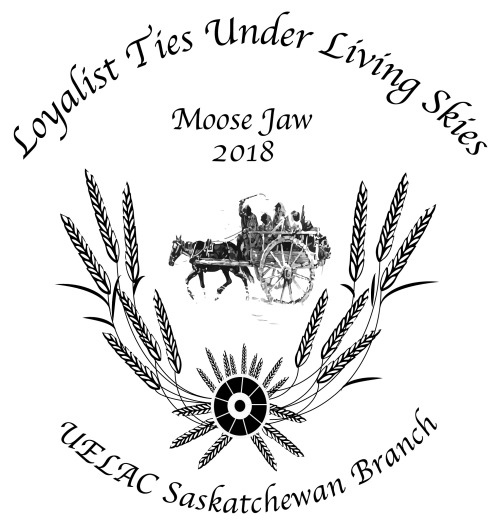 ... for "Loyalist Ties Under Living Skies
UELAC Annual AGM and Conference, June 7-10, 2018:
Moose Jaw, Saskatchewan.
The Saskatchewan Branch of UELAC will be welcoming UELAC members and guests from everywhere to the 2018 Dominion Convention and AGM at Temple Gardens Hotel and Spa, Moose Jaw, Saskatchewan, Canada.
It's always a comfortable time when Loyalists get together; we feel connected, almost related ...our ancestors came through so much together.
See the flyer which was included included in the Fall 2017 Loyalist Gazette.
This update on 10 Feb. 2018. More information to come.
You might want to check out the Westjet Valentines seat sale open until Feb 14 and with flights good until June 27th.
Registration will open Wednesday, June 6th evening to accommodate those who arrive early to attend the Thursday Genealogy and Membership meetings.
Thursday morning closed Genealogy meeting will start at 9 AM and the closed Membership meeting will start at 1 PM. Thursday starting at 6:30 PM, the bus will load to take attendees to CFB 15 Wing for our opening ceremonies to start at 7 PM, Of course the Hospitality suite will be opened when we arrive back at the Hotel.
Friday June 8th, starting at 9 AM, the Royal Canadian Mounted Police will be featured in "The Trek West" presentation. After a short break, Dominion Genealogists, Peter and Angela Johnson will host an "Open Forum" Q & A seminar on Loyalist research. The afternoon will have you choosing one of two tours,
Tour 1 will highlight a country trip to a working farm and upon return to the city tour guides will join us to check out the downtown murals
Tour 2 will feature the Western Development Museum of travel, a Burrowing Owl Display and travel to the Wakamow Conservation area
Friday evening supper will showcase a Saskatchewan Feast and once again you can unwind in the Hospitality suite.
Saturday June 9th the UELAC AGM will fill the morning and the afternoon will give you free time to enjoy the soothing waters of Temple Garden Spa or Explore the history and wonders of Moose Jaw. The Gala Banquet will round out the day in usual elegance.
For Sunday's service we will be welcomed by St. Andrew's United Church congregation.
Continue to watch the UELAC website and Loyalist Trails as updates will be posted as events unfold.
Conference Hotel
We have secured the Temple Gardens Hotel and Spa, recently renovated, just half a block from Main Street. Bring you bathing suits, it has a large geo thermal pool, walk down a ramp and bask in the soothing mineral waters, continue into the outside pool if you desire. Luxury bath robes provided!
Booking is now available. Special room rates $165/night, single and double occupancy. A variety of rooms are available under this rate. Phone 1 800 718 7727, Quote UELAC – Sask Branch, 124551 for your reservations.
Thursday
Program details will be forthcoming. The event will commence early evening on Thursday June 7 and conclude around noon on Sunday June 10.
NOTE: If you are the person who will represent your Branch at the Genealogy meeting or Membership meeting, you need to know that those meetings will run on Thursday morning (genealogy) and afternoon (membership), so please plan your arrival accordingly.