Where in the World ... ?
"Where in the World is UELAC?" Where in the world are YOU?? With your help, we hope to find out! Take a travel photo of yourself wearing UELAC gear and we'll feature it online and in an upcoming issue of Loyalist Trails.
First, put yourself in the picture with UELAC Promotional gear. Then, send your photo to Doug Grant Loyalisst Trails@uelac.org and we'll add you to our UELAC sightings gallery below.
In the meantime, browse our recent submissions below and see if you recognize the people, the places, or both. Click any photo for a larger resolution.
The archive of older entries has more. For earlier entries, browse by year: 2015, 2014, 2013
Highlight the space below the photo to reveal the answer if you're stumped!
Where are Michel Lewis and Pat Blackburn (Hamilton) with Peter Scandlan and Patricia Scott (Nova Scotia Branch)?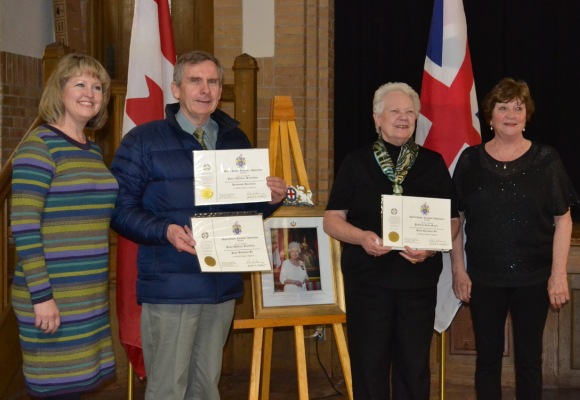 Answer: [ Recent Nova Scotia members Peter Scandlan and his aunt, Patricia Scott of Ontario, were presented with their certificates in Hamilton, ON on Feb 23, 2017. Ancestors are Jeremiah RUSHTON and his father, John RUSHTON Sr., Westchester Refugees to Cumberland County, NS. Thank you to Hamilton Branch for making the presentation. ]
Where are (L-R) John Eaman, Ed Morrissey, and John Chard?
Answer: [ On April 20th, 1982 the Halifax-Dartmouth Branch received a new Charter from Association President, John A. Eaman at a ceremony held in St. George's Anglican Church which in 1995 was destroyed by fire. Mr. Edward Morrissey, President, accepted this Charter. In 2013, the Branch was renamed to the Nova Scotia Branch. ]
Where are Carol Harding and Joe Munroe with other members of Nova Scotia Branch?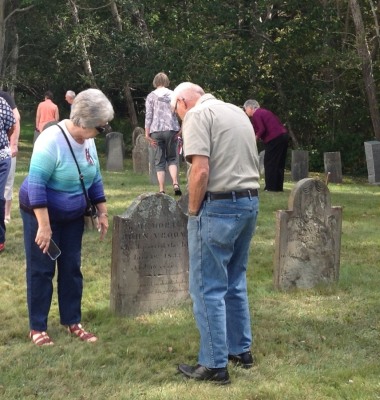 Answer: [ During a tour of graveyard at Old St. Edwards Loyalist Church in Clementsport, NS on Sept. 17, 2016 taken organized by NS Branch, Carol Harding (left) and Joe Munroe, members of the branch, examine one of the Loyalist gravestones. (Submitted by Brian McConnell.) ]
Where are Doug Grant and Nancy Conn, Gov. Simcoe Branch?
Answer: [ While travelling on the Trans-Siberian Express route which goes from Moscow to Beijing, two days were spent in Mongolia. One night was off the train, either in a hotel in Ulan Bator or in a Yurt. Doug and Nancy chose the latter. It was hardly roughing it as had been expected in this camp of about thirty yurts. The wood stove made it warm and cozy in the evening, but it was chilly by morning. The scenery was rather spectacular in this valley between mountain ranges. Yurt camps are rather popular – four in this one photo. ]