Loyalist Participation in Events
Col. John Butler Branch Attends Unveiling of Col. John Butler Bust
Despite a forecast of rain, glorious hot sun drew great crowds to the unveiling of the Col. John Butler bust in Niagara-on-the-Lake as part of the festivities organized by the Friends of Fort George and conducted by Ron Dale.
Members of the Col. John Butler in period dress were treated like celebrities by the parade bystanders along Queen Street as well as those gathered at Simcoe Park. Tourists from as far away as Chile, Columbia and Italy clamoured for photographic opportunities with the Loyalist descendants, and Zig Misiak and Scott Patterson of Butler's Rangers. The scarlet coat of CJBB member and NOTL Volunteer of the Year, Dr. Richard Merritt also served as a major attraction for photo ops.
Prior to the main event, I presented Dr. Elizabeth Oliver-Malone with a certificate of Associate Membership on behalf of the Col. John Butler (Niagara) Branch. A long-time member of both the Branch and the Niagara Historical Society, Dr. Malone has actively pursued the enhancement of Col. John Butler as the founder of Niagara-on-the-Lake. Her sheer determination and boundless energy encouraged the local committee to mark the original Butler homestead in the St. Andrew's Glen area, create the park on Balmoral Drive and last year, erect a cairn. This bust by Ruth Abernethy will top off the cairn later this summer. For an image of the bust of Col. John Butler see the Penny Coles article from the Niagara Advance.
As three prior Col. John Butler Branch outdoor events had been conducted under a variety of umbrellas, I personally appreciated the opportunity to participate in full sunshine.
Fred Hayward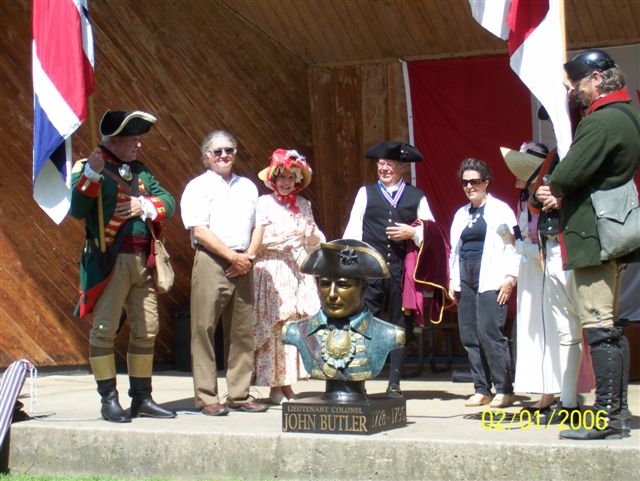 Picture by Bill Stevens. CJBB
From left, Zig Misiak, Jon Butler, Bev Craig, Fred Hayward, Ruth Abernethy, Dr. Elizabeth Oliver Malone, Scott Patterson.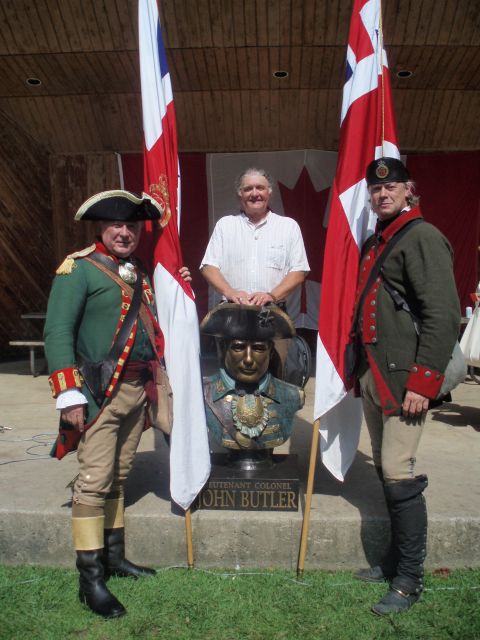 Zig Misiak, Jon Butler, Scott Patterson