UELAC Honours and Recognition
Book of Remembrance and Memorial Fund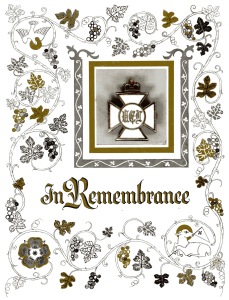 Many of us like to take the opportunity to do something special in memory of someone. The occasion is frequently soon after they have passed away, but could be at a later time.
UELAC through its branches most frequently but on occasion directly provides financial support to projects which help preserve and promote our Loyalist heritage.
To support those two purposes, a Memorial Fund was established. This is funded by donations, and the UELAC Grants Committee manages and disperses money to selected projects.
In 1991, Donald Howson, Audrey Kirk, Jean Lake, Joan Lucas, Elizabeth Richardson and Mary Scot donated a Book of Remembrance.
In this book, the name and date of death of the person being remembered would be recorded, along with the branch they belonged to, the name of the person's Loyalist ancestor(s) if one or more had been documented, an optional message, and the name of the donor.
View the Book of Remembrance and the entries in it. (Updated 05 September 2018)
Entries will be entered upon submission of the information and a donation to the Memorial Fund.
For instructions and the form, go to the Memorial Fund.