Our Ancestors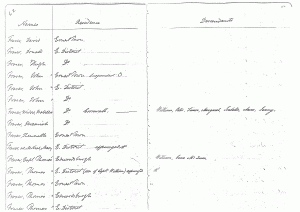 Simon Fraser, famed BC explorer, as his name appears with
his siblings and widowed mother, on Folio 62, of the "Old
U.E. List", preserved in the Crown Lands Dept., Toronto
- from the Haldimand Papers, (formerly RG1, L7, Vol. 52A),
Library and Archives Canada
(Click here for high resolution)
Researching Our Loyalist Ancestors
More than 80,000 United Empire Loyalists went into exile after the American War of Independence. While the proportion of Loyalists among the total American colonial population is estimated as high as 33%, some 40,000 exiled Loyalists fled north to resettle in lands that would become the Dominion of Canada.1 Part of the mission of the UELAC is to collect and catalogue documents and artefacts relating to those Loyalists. They do it with the help of the membership.
In 2004, the UELAC undertook a project to collect and present information on individual Loyalists in a Loyalist Directory. Based on the above figures, the current Directory represents less than 20% of the people that came to Canada and less than 10% of the whole.
Members can help collect documentation and identify new Loyalists by documenting their lineage. Our branch genealogist helps members document their lineage: we do not have the resources to do research for people, but we can show you how it is done. It is a process that incorporates genealogical standards of proof. It can be challenging. It can be fun. It is rewarding. It certainly helps build a more complete picture of who the Loyalists were. You can make a make a personal contribution in preserving a part of history by populating the Directory of Loyalists with the history of your ancestor. Approximately 10% of Canada's population can trace their family lineage back to the Loyalists -- much is yet to be written.
People who document their lineage help to create the most complete story possible about all the Loyalists. UE certificate applications also help identify Loyalists previously not accounted for. We urge all to share their information and contribute to our ever-growing list of United Empire Loyalists. The Loyalist Directory is an ambitious project powered by branch volunteers across Canada. Look for your ancestors' names in the directory, and if they are not there already we urge you to help get them identified by documenting your lineage: click here for a starting point and contact information.
---
Notes
1. Prof. Hereward Senior, PhD, McGill University, Montreal & Honorary Vice President, UELAC. The Loyalist Gazette, Vol. XLIII, No. 2, Fall 2005.