Our Ancestors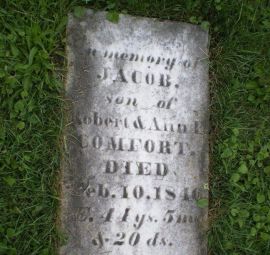 Tombstone of Jacob Comfort, son of Robert Comfort;
Lane Cemetery, Section B, Row 20, #7, St Ann's,
Gainsborough Township, Lincoln County, Ontario.

This tombstone links two generations by stating the
relationship of Jacob to his father Robert. Information
captured at the time of an event (like Jacobís burial),
is considered primary documentation.
(Click here for high resolution)
Documenting your Lineage
Branch members do a great deal of genealogical research to document their lineage to their Loyalist ancestor(s).
Acceptable proofs of lineal descent that can be used to link each generation to the next include:
Wills that state a family relationship
Birth, baptism, marriage and death certificates that have names of parents
Vital statistics registrations showing family connections
Church records or cemetery records that show family connections
Census records that list family connections of children with parents, etc
Dated newspaper articles that give family connections
Copies of land petitions or grants to Loyalists and their sons or daughters.
Our genealogist can provide some assistance when a roadblock is reached. For information about our resource and research library, please visit our library page.
Branch members can get a copy of the Certificate application, instructions and fee, from Linda Nygard, linda_nygard@telus.net.
Please note, you must be a member in good standing of the branch to access this 100% volunteer service. Members also help each other with the research.
Privacy
Please view the UELAC Policy and Procedure on the Protection of Personal Information