Projects & Awards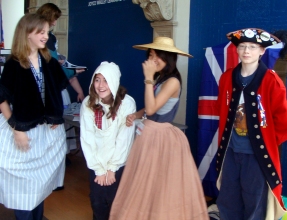 B.C. students trying on Loyalist clothes at the Heritage Fair
(Click here for high resolution)
This page lists Vancouver Branch's various projects and awards. Choose an item below for more details.
2010 — Beyond the Mountains conference
2012 — War of 1812, 200th Anniversary Commemorations
2014 — Moving Ever Westward – our centennial venture
• order details
The National UELAC Dorchester Award
• At the 2015 National Conference, Vancouver President Carl Stymiest UE was recognized for the "best in volunteerism" by the United Empire Loyalists' Association of Canada – a Proud moment for the Vancouver Branch Executive who nominated Carl for this award.
B.C. Heritage Fairs