Articles
Articles written by Branch Members
Adam Green, one of five brothers that joined the Royal Standard during the revolution, was born about 1739 in a farmhouse on the road between Log Gaol (today's Johnsonburg) and Marksboro, New Jersey. That road is called Ramsey Road now. The farmhouse and farm still exist although the log and stone cabin is now covered with weatherboards to modernize its appearance and protect the old logs.
In 1754, the entire family of Samuel Green Sr., the Deputy Surveyor General of Western New Jersey, moved into a large house in the centre of Log Gaol.
JOHNSONBURG MANSION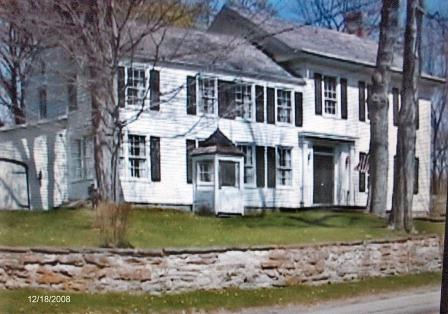 (Photo courtesy of Douglas A. Green UE)
To the west of this home, Samuel Green Sr. owned a grist mill. The original log gaol was erected just to the west of this picture on his land and under a £500 bond he agreed to for the future undisturbed use of the gaol by the County of Sussex.
Samuel Sr. died in 1760, leaving his estate to his third wife Hannah (Wright) Green. Adam Green was appointed trustee for her interests.
When the revolution broke out Adam, the oldest son, and his brothers John, William, George, and Daniel all joined the British army. Adam and John became recruiters, William, George and Daniel joined the New Jersey Volunteers. George and William were in James Shaw's Company.
Adam Green and John Green both worked under the direction of Colonel (Judge) Nathaniel Pettit. Adam and the colonel were captured by Whigs in April of 1777 and imprisoned in the subterranean gaol of Newton Courthouse, in Newton New Jersey. Nathaniel Pettit bought his way out of the jail after 6 months for the sum of £1000 sterling. We don't know how or when Adam Green got out. He was not there when James Moody and a team of six New Jersey Volunteer soldiers raided the gaol in 1780 to rescue Robert Maxwell.
Shortly after Adam's arrest, George had been arrested for attending a Loyalist meeting at Wall Kill, New York. George was imprisoned in May of 1777 in the same 2 cell gaol, now holding over 20 men per cell. He died there within a month. William was arrested for being a member of the New Jersey Volunteers having not yet reported in for duty at Staten Island at the time of his arrest.
William was sent to Morris County Gaol in Morristown, New Jersey, which was a broken down jail with no facilities, overcrowding and holes in the walls where wind could blow through. The town ran out of water, food was scarce and only their buying food saved the prisoners. William escaped and returned to his regiment on Staten Island in 1778.
After the war, Daniel and William lost the remainder of their lands and fled to Armstrong County, Pennsylvania to start over. John left for Upper Canada in 1789, returned to New Jersey in 1792 to sell some land and then settled in Upper Canada near Grimsby where he operated several saw mills.
Adam's land survived the war and confiscations because he was only a trustee until his mother's death sometime circa 1785. After John's return visit to New Jersey in 1792, Adam sold a large portion of his land to a brother-in-law and removed to Stoney Creek, Saltfleet Twp., Wentworth County, Upper Canada in 1793.
There he bought Lot 24, Concession 4 from John McDavid in 1793. He then applied for land in 1794 and was granted Lots 24 to 26, Concession 5.
With the support of Nathaniel Pettit, Adam Green applied for entry on the U.E. list in 1808 and was so recorded.
During the War of 1812, his sons William "Billy the Scout" Green, John, Levi, Freeman, and Samuel all fought. Samuel was wounded and is recorded on the government list of wounded militia. Billy Green and Isaac Corman are memorialized on the Stoney Creek Battlefield monument along with the generals and other officers who participated in the battle.
Battlefield House Museum houses a portrait of Billy Green and a bronze of him on 'Tip' the horse he rode to Burlington Heights to give the Yankee password to General Vincent. That bronze was created by the famous artist Ralph Sketch.
David B. Clark UE
27 December 2011