Articles
Articles written by Branch Members
Baking and Cooking in the 18th Century
Samuel Green Sr. moved near Log Gaol (today's Johnsonburg) in Hardwick Township, Sussex County, New Jersey, about 1738. His son Ensign Adam Green UE, grew up on his father's farm on Ramsey Road next to Old Stage Lane. That farm still exists today as does that farmhouse.
Originally built of logs and stone, it now has weatherboards over the exterior to modernize its appearance. Unusually, its hearths are in the basement: one at each end of the house. Excavations of the hearths show that only one has seen any extensive use. That hearth sported a massive timber at its front and was built of bricks, fieldstone and several large pieces of dressed stone.
As was usual in the time, the hearth has a small beehive oven built into its back wall. In use, I have been told, the oven was heated up with glowing coals from the fire, then quickly cleaned out so the bricks did not cool, and bread was then placed on the floor of the oven. Then it was quickly walled in with either an iron plate or a piece of thin stone sealed around its edge with bread dough. About 40 minutes later the oven was opened and the bread for the day removed to cool.
Although this was a primitive way to bake, it worked and puts us all to shame today.
HEARTH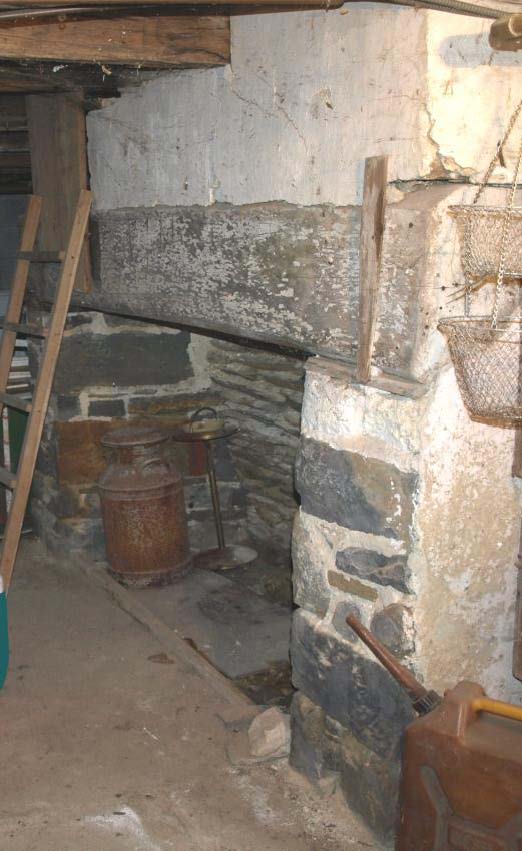 BEEHIVE OVEN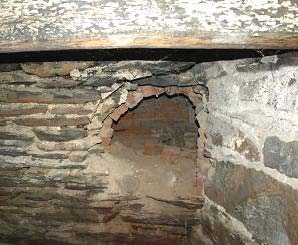 From those early beginnings, Samuel Green Sr. who had acquired 2100 acres of land in and around Johnsonburg by surveying for Dr. Daniel Coxe (the absentee de-facto governor of New Jersey), was able to move into a large mansion in Log Gaol itself, circa 1754. That second house still exists and the land around it is called Old Log Gaol Farm. Below is a representation of pots and pans in a kitchen of well-to-do residents.
DISPLAY HEARTH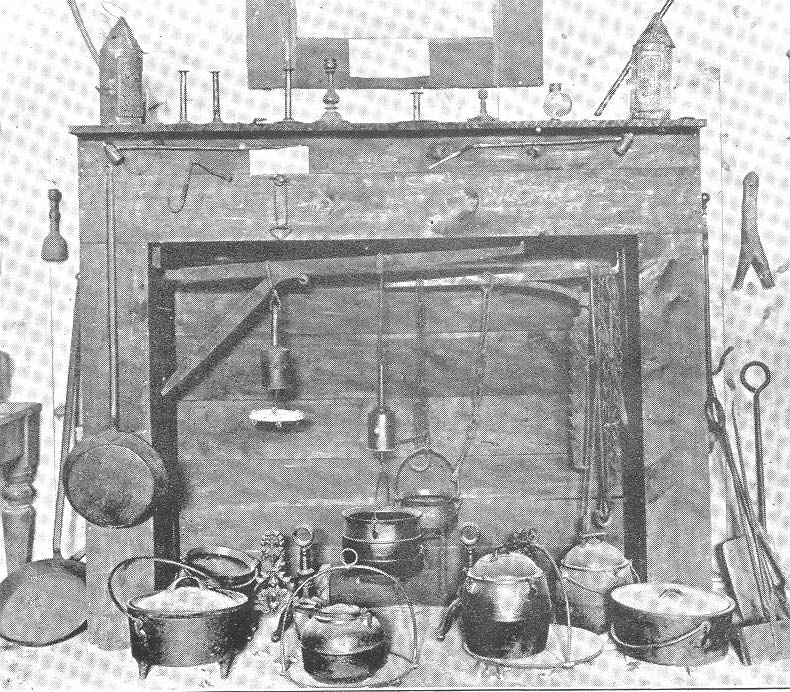 Note the various Dutch ovens, iron kettles, pots and griddles, 3-foot frypans and the various cranes used to hold the pots over the fire and to the right a 3-foot waffle iron.
These represent a quantum technological step up from the primitive beehive oven and open hearth without iron cranes in Samuel's first house.
Bread could now be baked in Dutch ovens with coals on top and below, thus giving a better finished product.
I have to give Hannah (Wright) Green, Samuel's wife, my respect. To be able to cook in the beehive oven and even in the Dutch oven, requires a skill level that most of us do not possess today.
Samuel Green Sr. died in 1760. His wife Hannah inherited his entire estate with Adam Green, her son, acting as trustee for her. Unusually, Hannah was appointed the executrix in the estate. As such Adam did not inherit until after her death which was circa 1785, so the estate survived the revolution and Adam was able to sell off a large part of his share in the estate before coming to Upper Canada in 1793.
For his part in service to the Royal Standard, Adam Green acted as a recruiter under the command of Judge (Colonel) Nathaniel Pettit. This is revealed in Pettit's claim for compensation for lost lands, and also on a petition for inclusion on the UEL list made by Adam in 1798 wherein Pettit has made a statutory declaration that Adam Green, Charles Pettit, Peter Gordon and John Green were all considered officers under Colonel Pettit. Adam Green and Nathaniel Pettit were captured by the rebels in 1777 and spent nearly a year in the subterranean jail at Newton Courthouse. Adam's brother George Green died in that jail in May or June of 1777.
SOME 18th CENTURY RECIPES
PUMPKIN CORNMEAL PANCAKES
1 cup flour, 1 cup cornmeal, 1 cup confectioner's sugar, 1/2 teaspoon dried ground ginger, 1/2 teaspoon cinnamon, 1 cup mashed pumpkin, 2 eggs lightly beaten with a fork, 2 1/2 - 3 cups milk or more for thinner pancakes, butter for frying.
Combine dry ingredients in a large mixing bowl. Combine pumpkin and eggs. Beat into dry ingredients. Add milk slowly to make a smooth pancake batter. Heat some butter in a frying pan and pour some batter in. Swirl the batter around to make an evenly thick pancake. Cook on both sides until nicely browned. Serve hot, heavily dusted with confectioner's sugar.
STEWED EEL
Take an Eel washed clean and cut into pieces, add to it water, butter, dry ginger, cut up onion, and a little salt. Let it stew together until it is done enough, then add chopped parsley and lovage to the pot, continue to cook for a little while and dish him up.
VEGETABLE SOUP
Take a parcel of onions chopped very fine and put them into a quarter of a pound of fresh butter boiling hot. When they are quite soft; add pease (sic), parsley, spinnach (sic), cellery (sic), carrots, kidney beans. All but the pease (sic) chopped very fine. Stir them well in the butter and onions until they begin to dry then have a tea kettle of boiling water and put about a pint at a time over your herbs till it is as much as you want. Serve it with bread in the bottom of your dish. - Suit your taste with pepper and salt - green peppers if in season are good chopped with other vegetables. Vegetables of every season and as many as you can collect, will make your soup the better.
DRIED APPLES, PEACHES & PLUMS
Apples are peeled, cored, and quartered and then spread upon a platform of boards in the yard. They are soon covered with all the bees, wasps and sucking flies of the neighborhood. This accelerates the operation of drying. Those who have but a small quantity, thread them and hang them in front of the house. To prevent the dried apples from getting wormy, one should not dry your apples until the flies have disappeared and after the weather becomes cold.
In the same manner, dry peaches and plums without peeling them.
N.B.: It should be noted that the drying process for fruit, mentioned above, would be completely unacceptable today in terms of health standards and you are strongly cautioned not to try it.
BREAD
Stir 1/2 teaspoon salt into 3 cups unbleached flour. Add about 1/2 cup barm** diluted to 1 cup blood-warm water. Mix well, shape into a ball (add more flour if too damp). Cover and leave to rise until doubled (about 2 hours). Knock the dough down and knead thoroughly. Form dough into ball and allow to rise again until doubled (3/4 hour). Bake about 40 minutes in hot oven.
NOTE:** Up until the final quarter of the 18th century the only leavening in use for baked goods was yeast or eggs. Yeast was gotten mainly from barm, the froth which forms on ale and beer in the fermentation process, or from saved dough or sourdough starter.
CHICKEN IN A POT
One medium chicken is drawn, singed, cleaned and trussed then rubbed with salt and pepper and the breast larded. Add pork, beef or goose fat to No. 9 cast iron dutch oven and heat over fire until very hot. Sear chicken breast side down until brown. Turn over in dutch oven and add small onion and celery chopped middling, garlics whole, rosemary twigs, some peppercorns around chicken. Sear back of chicken until sufficient. Cover dutch oven with lid and keep pot over medium fire 1½ to 1¾ hours.
N.B.: I have personally made the latter chicken dish and it was excellent. Sear the chicken as above. Remove Dutch oven from the hob to a 350°F oven for the same time. You could also add Bay leaves, and chopped carrot. When done press the solids to extract all juices for gravy, skim the fat off and add a slurry of cold water and flour then boil until thickened. Instead of using lard or fat, use grapeseed oil and use blanched bacon to cover the breast while cooking.
Don't forget to put that bread in the beehive oven or the meal won't be complete.
David B. Clark UE
1 December 2011