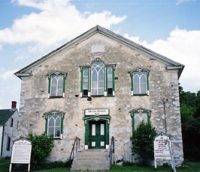 Philipsburg United Church
first Methodist church in the Eastern Townships, 1819
The architecture of the Philipsburg church reflects the influence of the German Palatine Loyalists and their expertise in stonework which created a durable edifice. The building bears a remarkable resemblance to the first Methodist chapel built in New York City by Philip Embury, the father of Samuel Embury, a member of the congregation in Philipsburg. The design of the church is simple with dimensions of forty feet by fifty feet. It is constructed of the famous native white Philipsburg marble and from the pulpit, one has a view out the front doors over Missisquoi Bay.
-- from With Heart and Hands and Voices (1996), p. 222, by Phyllis Hamilton, UE
Welcome to the Sir John Johnson Centennial Branch UELAC
Established in Canada's centennial year, our branch holds meetings in the south-western region of the Eastern Townships of Quebec, but our membership extends across Canada and beyond to other countries serving those who honour their United Empire Loyalist ancestors and those who support the study of our Loyalist heritage.
As one of the 27 branches that are found from Halifax to Victoria, we too pursue the vision statement of UELAC:
To enrich the lives of Canadians through fostering public awareness of our national history, and, in particular, of the United Empire Loyalists and their contributions to Canada, while also celebrating their memory and perpetuating their heritage as an integral part of the Canadian identity.
Our name also acknowledges the contributions of a courageous leader whose influence in the revolutionary conflict and the settlement of the Loyalist refugees is worthy of greater recognition.
Recent Sir John Johnson UELAC Site Updates