Our Loyalist Ancestors
When a member of Kingston and District Branch applies for certification as descendant of a known Loyalist and has submitted all relevant proof of the unbroken links between the Loyalist and themself, they receive a formal Certificate from Dominion Headquarters.
The members in the list below have given their permission to publish their name and e-mail address. If you share their interest in a particular Loyalist individual, they are willing to correspond with you about their ancestor.
The Certificate numbers are provided as an aid to any Branch Genealogist who may be assisting a member with his or her application.
This list will be continuously updated as members provide their information and permission to post it. Do check this page periodically.
Our Meeting Place: St. Paul's Anglican Church
The church building was begun in 1845 and completed in 1847. It was dedicated in memory of Reverend Robert Cartwright, curate of St. George's parish for thirteen years before his death. The Cartwright family also has an enclosure here. As one side of the family monument reads,
"Rev. Robert David Cartwright / M.A. Queen's College Oxon 12 / years assistant Minister of St. / George's Parish, and to whose / memory the adjoining Church was / erected".
The church hall, where our Branch holds its meetings, is a later addition.
St. Paul's Cemetery – A Loyalist Burial Ground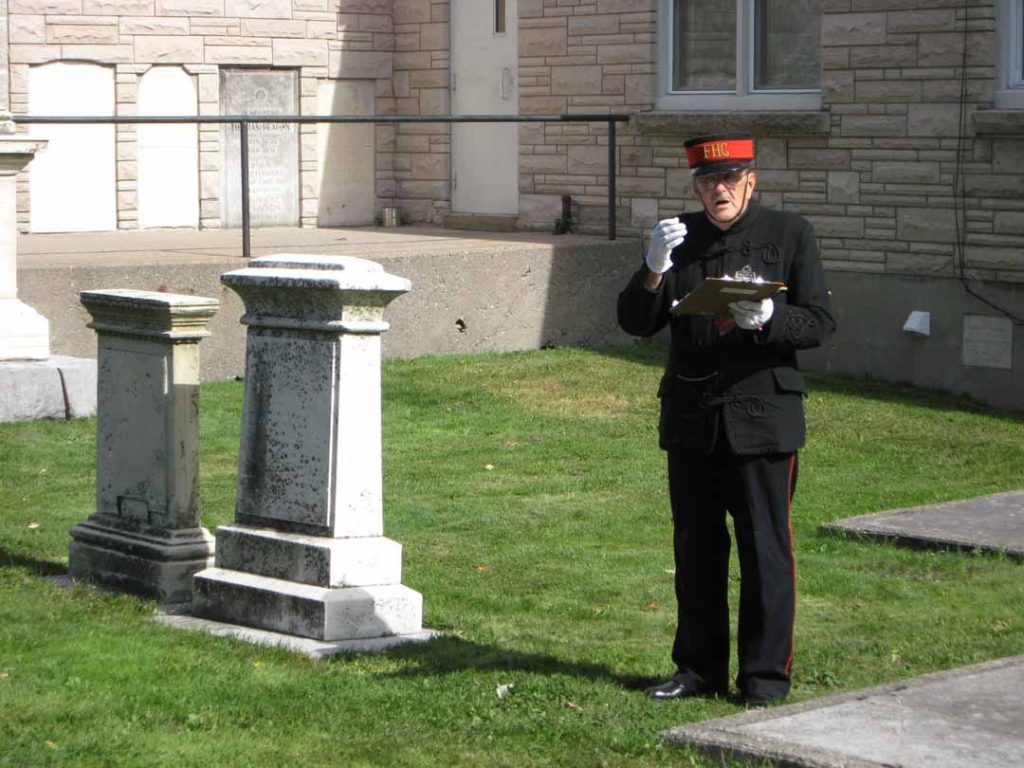 The graveyard, also known in old documents as the Lower or Old Burial Ground, dates from long before the church, and for many years was the only burial yard in Kingston. Anglican interments in St. Paul's yard were recorded in the registers of St. George's, Kingston, which commence in 1791. Interments for people of other denominations may also have taken place, but the location of such burial records is unknown.
Among those buried here is Molly Brant, sister of Joseph Brant and consort of Sir William Johnson. Molly's grave is unmarked.
Rev. John Stuart, Anglican missionary to the Loyalists who settled at Cataraqui (later Kingston) and members of his family are buried here. The Stuart Lair containing a number of family graves was recently restored, thanks to the efforts and fundraising of the Lower Burial Ground Restoration Society (LGBRS). Previous stages of the restoration work on the wall can be seen here Lower Burial Ground. The 2009 restoration of the Forsythe plot can be viewed on our Branch Activities page.
When St. Paul's church was erected in 1845, the building was built over top of a portion of the burial ground. Some stones were moved to the crypt of the church, but other graves were simply covered over.
You may obtain a full transcription of the stones in the yard and crypt from our friends at Kingston Branch, Ontario Genealogical Society – click their Publications link.