Events & Dates
Special Dates of Note
Up-Coming Meetings & Events for Kawartha Branch:
Kawartha Branch Meeting: Sunday, Feb. 19, 2023 (via Zoom)
Featuring guest speaker, Jean Rae Baxter, UE, who will be talking about her latest book, The Knotted Rope.
The Knotted Rope, the sixth and final novel in what has become known as the "Forging a Nation" series, is set in Niagara in 1793 during the last days of slavery in Upper Canada. It returns to the subject of Jean Rae Baxter's third historical, Freedom Bound, in which she told the story of the Black Loyalists' escape from slavery during the American Revolution. In The Knotted Rope, Jean Rae Baxter unravels another strand of the complicated, sometimes tragic, but ultimately victorious, history of the fight to end slavery.
In this presentation, she examines the paradox at the heart of writing responsible historical fiction. To honour our history, we must be true to it.
But how can we tell the truth by means of made-up stories? That is the question. The answer, she explains, lies in the use of historical facts to trigger the action. The writer shows how people reacted to, and were affected by, actual events. Just such an event was The Proclamation of "An Act to Prevent the further Introduction of Slaves and to limit the Term of Contracts for Service Statutes of Upper Canada 33 George III."
The Knotted Rope is available for purchase on Amazon.ca.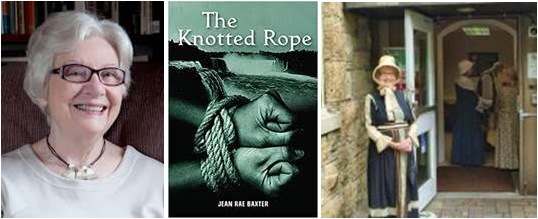 About the Author
Jean Rae Baxter is the descendant of settlers who arrived in New France in the 17th century, Loyalists who came to the New Settlement following the American Revolution, immigrants from Germany in the 19th century. There were many family stories to awaken her interest in Canada's history.
Jean's historical fiction has won recognition in both Canada and the United States. In 2022, she was nominated for the Governor General's History Award for Popular Media: the Pierre Berton Award. She has received the Hamilton Arts Council Award for Young Adult Literature as well as a City of Hamilton Heritage Award for her writing. Her books have been shortlisted for the Ontario Library Association's Red Maple Award and British Columbia's Stellar Award, and she has received an Honourable Mention at Boston's New England Book Festival.
In preparation for writing, she likes to travel to the places where her novels are set. Her research for Freedom Bound included a visit to South Carolina's alligator-infested black-water swamps. Her experience of the caves of the Niagara Escarpment required less travel. She has visited the Cave of the Winds behind Niagara Falls, both before its collapse in 1954, and also in recent years while researching background for The Knotted Rope.
The wall of falling water, the wind and the thunderous noise remain unchanged. As children, she and her brother explored the caves of the Niagara Escarpment at Rattlesnake Point, which was a bicycle-ride away from their family's summer home in rural North Burlington.