Items for Sale
The Governor Simcoe Branch, like many other branches, has developed a number of items for sale. These items are either about the Loyalists, or are to promote them. At our branch meetings and many events, Simcoe Branch has a combination display and sales table, with a variety of current but topical books and items that you might wear or display. The Promotions (2014) Committee has developed a catalogue of items which many people are proudly purchasing.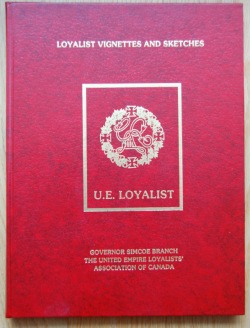 Loyalist Vignettes and Sketches, published by the Governor Simcoe Branch, UELAC
Sit with your Loyalist ancestors and their friends and neighbours. Discover stories of their lives, family traditions, tales of survival, and families split between Loyalists and Patriots.
Families mentioned include Boulton, Cameron, Cook, Condon, Denike, Depue, Phillips, Playter, Robinson, Ruttan, Schuyler, Secord, and Snider to name a few. Well over 300 family names within.
A perfect holiday gift for the hard-to-buy-for Loyalist on your list;
The perfect donation to your local library, school or seniors' centre;
A perfect book to curl up with yourself as the wind blows colder outside and the snow falls.
Book Details
Hardcover, 8" x 11", 190 pages, gold lettering.
Edited by Gary Toffoli and Arthur Bousfield.
Books can be purchased from the Governor Simcoe Branch.
Contact Sandra McNamara, UE, at themcnamaras.sm@gmail.com for more details or to determine shipping cost.
Purchase price: $20 for one book, or $18 each for three or more books ordered. Shipping extra.
Loyalist Rose Cards
Loyalist Rose bookmarks
UELAC Promotions (2014)
From clothing to licence plate frames, from limited edition plates to hats, from sticky notes to luggage, valises, pins and flags -- the Committee has assembled a variety of great items which allow us to proudly note our interest in our heritage and Loyalist history. Take a look at the UELAC catalogue and order a few items.