UELAC Conferences
Upcoming UELAC Conferences
2016: Thursday July 7 to Sunday July 10 in Summerside, PEI, hosted by The Branches of the Atlantic Region: Abegweit, New Brunswick and Nova Scotia.
2017: in London ON, co-hosted by London & Western Ontario Branch and Grand River Branch
2018: in Saskatchewan, hosted by Saskatchewan Branch
UELAC Conference 2015 - Loyalists Come West - Victoria, BC
UELAC AGM 2015 - Loyalist Trails, 24 August 2014
Nine months to go. The Pacific Region Branches of the UELAC have been hard at work planning the Loyalists Come West 2015 AGM to be held in beautiful Victoria, British Columbia May 28 - 31, 2015.
The AGM venue is the Coast Victoria Harbourside Hotel and Marina which stands facing Victoria's Inner Harbour with excellent views of passing ships and boats, the marina and is close to the Legislature Buildings, the Empress Hotel, and many tourist activities.
Our hospitality room is on the top floor of the hotel with an outdoor patio which will be well appointed with chairs for those attending to sit and sip while watching the goings on out on the water.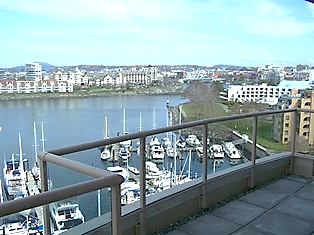 Don't miss the internationally famous Greater Victoria Police Chorus who will entertain at the Gala Banquet on Saturday night. Friday night will be a special dinner of original Loyalist foods with a no host bar offering real 1700's drinks that our ancestors would have consumed in addition to today's beverages.
Visit the Victoria Branch website to keep up-to-date on the planning for 2015 at http://www.uelac.org/uelvictoria/UELAC-Conference-2015-Victoria-BC.htm
by David B. Clark, U.E.
landmenbc1@shaw.ca
Loyalist Trails article, 24 August 2014