UELAC Conferences
Upcoming UELAC Conferences
2016: Thursday July 7 to Sunday July 10 in Summerside, PEI, hosted by The Branches of the Atlantic Region: Abegweit, New Brunswick and Nova Scotia.
2017: in London ON, co-hosted by London & Western Ontario Branch and Grand River Branch
2018: in Saskatchewan, hosted by Saskatchewan Branch
UELAC Conference 2015 - Loyalists Come West - Victoria, BC
Police Chorus at Banquet - Loyalist Trails, 6 November 2014
THE GALA ENTERTAINMENT
The 2015 Conference Committee was fortunate enough to be able to book the Greater Victoria Police Chorus for the Saturday night Gala Banquet on May 30th, 2015.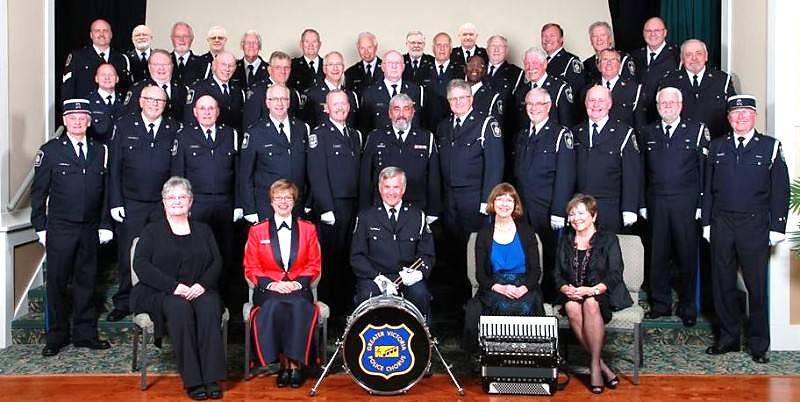 "On January 11 1984, twenty members of the various area police departments met for their first practice at the Victoria Silver Threads Centre. Their goal was to bring together officers from separate forces with one common interest – music. The Greater Victoria Police Chorus was founded and soon they were singing for schools, hospitals, charitable fund raising venues and public events. Greater Victoria Police Chorus is one of a few police chorus' in western Canada.
Officers from Central Saanich, Oak Bay, RCMP, Saanich and Victoria City and the former Esquimalt forces initially formed the chorus. They have since been joined by officers from the Royal Ulster, Royal Hong Kong, Cheshire, Leicester City, Toronto, Shelbourne, Orangeville, Regina, Calgary, and Edmonton police forces.
The Chorus has toured parts of Europe on four different occasions, and has sung in historic cathedrals in the Netherlands, Wales and England. They were the hosts of the first International Police Music Festival in Victoria in 1993, and again in 2000."2
Don't miss this great performance. If you like their singing they have two CD's of singing that can be obtained through the Greater Victoria Police Chorus website.
Things are progessing speedily now, seven months out from the conference. Stay tuned for more details over the months coming.
David B. Clark, U.E.
landmenbc1@shaw.ca
1
http://www.victoriapolicechorus.org/ Consulted 22/10/2015.
2
Ibid.