UELAC Conferences
Upcoming UELAC Conferences
2016: Thursday July 7 to Sunday July 10 in Summerside, PEI, hosted by The Branches of the Atlantic Region: Abegweit, New Brunswick and Nova Scotia.
2017: in London ON, co-hosted by London & Western Ontario Branch and Grand River Branch
2018: in Saskatchewan, hosted by Saskatchewan Branch
UELAC Conference 2015 - Loyalists Come West - Victoria, BC
Gardens to See - Loyalist Trails, 14 September, 2014
Victoria is a destination city for tourists and sightseers. Saturday afternoon May 30, 2015, there is some built in free time before the Gala Banquet that night and for those not attending the AGM that morning, there will be further tourist time. There is something for everyone.
There are beautiful gardens everywhere. At the University of Victoria there is Finnerty Garden. This is a no entrance fee. The garden requires over an hour to wander its trails. The number 7 bus leaves downtown from Fort Street and Blanshard to Uvic. You must have exact change. Fares are $2.50 one way.

"The garden contains over 4,000 different trees and shrubs with more than 1,500 rhododendron and azalea plants, including 200 collected rhododendron species, and a spectacular range of companion plants artistically displayed on the 2.6 hectare (6.5 acre) site at the southwest corner of the UVic campus. Complementing the plant life are three tranquil ponds, an inviting network of winding paths and dozens of benches, each with its own distinctive view of the gardens' ever-changing splendour. The gardens have been carefully planned and developed to provide a rich and changing array of colour, scent, form and texture all year round. In April and May, you will see the rhododendrons at their best."1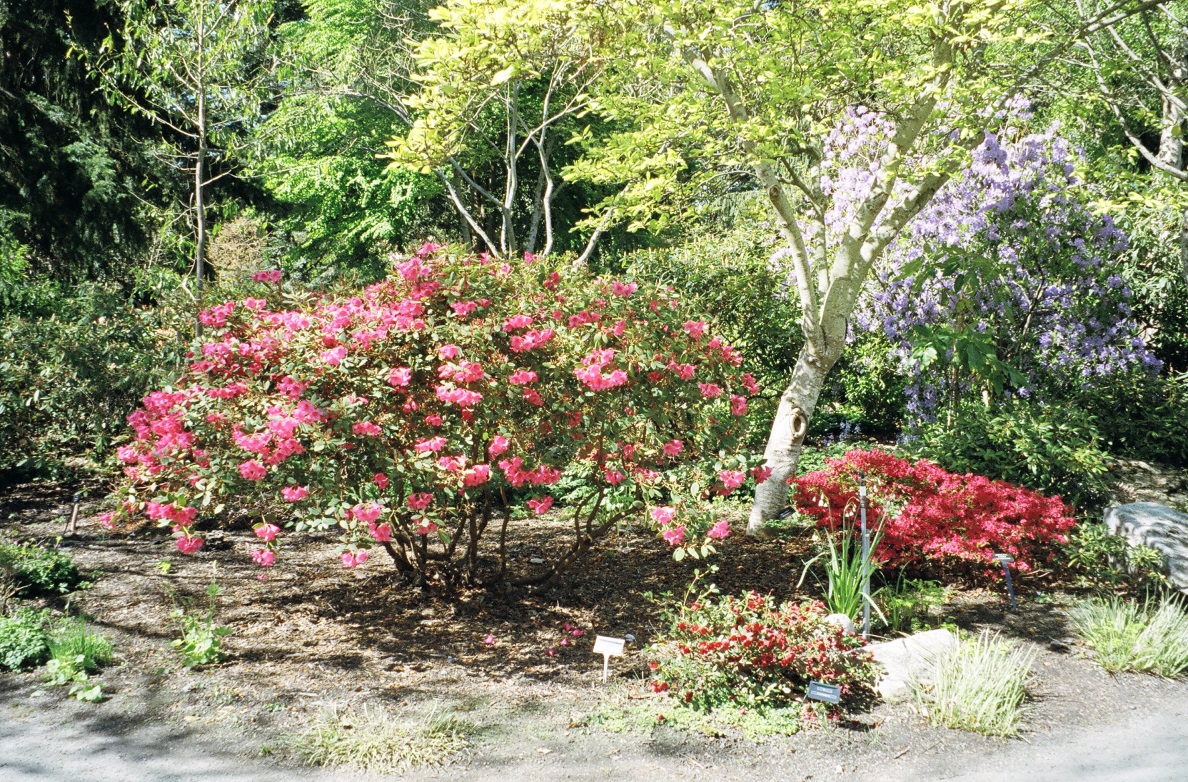 (Photograph by David B. Clark, U.E)
Those registering for the full Conference will receive a gift of a DVD of photos taken from Gardens such as The Horticultural Centre of the Pacific, Abkhazi Garden, Government House Gardens, Butchart Gardens, Finnerty Garden, Outerbridge Garden and Hatley Castle Gardens. The colourful pictures of these gardens were collected over a period of 10 years and have been set to music to show your friends back home and bring back memories of your stay in Victoria.
Not a fan of gardens? Stay tuned for more articles on things to do in Victoria in 2015

Visit the Victoria Branch website to keep up-to-date on the planning for 2015 at http://www.uelac.org/uelvictoria/UELAC-Conference-2015-Victoria-BC.htm