Our valued members may leave us, but they will always be remembered.
GLENN SNOOK U.E.
We are sorry to record the passing of our long-time member Glenn SNOOK UE. Glenn and Clara were a fixture at meetings for many years. Clara passed away last April, and now Glenn has followed her.
You can find a full obituary for Glenn, with a nice photograph, posted by The Kingston Whig.
OKILL STUART U.E.
The oldest member of Kingston and District Branch, Okill Stuart, died in Longueil, Quebec on Wednesday, August 28 at the age of 98. As Robert Wilkin, President of Heritage Branch, wrote, "His commitment to promoting his Loyalist heritage, as a direct descendant of Rev. John Stuart, UEL (1740-1811), was heartfelt and sustained. Among his accomplishments were … the organizing of the UELAC's Convention in Lennoxville, Quebec in 1989, graced by the presence, as guest of honour, of Okill's former schoolmate from Gordonstoun, H.R.H. Prince Philip; the publication that same year of The Loyalists of Quebec: A Forgotten History, 1774-1825, and his term as Dominion President of the UELAC (1994-1996). He had a passion for history, genealogy and heraldry, as well as an unshakeable belief in the value of our Canadian constitutional monarchy and our two official languages."
As Okill told our membership chair Lorraine Sherren in 2016, he shared his descent from Rev. John Stuart with Camilla, Duchess of Cornwall (Prince Charles' wife): her descent runs through Stuart's son John Jr., whose daughter married Sir Alan McNabb (of Dundurn Castle). Okill hoped that Queen's University would give Camilla an honorary degree in recognition of her Loyalist descent. Okill also descended from Chief Justice of Quebec (1786-1791) William Smith, another Loyalist.
See an obituary with photo at Dignity Memorial
AUDREY IRENE (MERKLEY) BAILEY U.E.
Audrey Bailey, a descendant of Loyalist Henry Merkley, passed away on April 26, 2019. Audrey served the Branch in a number of positions over the years – Secretary and Merchandise Chair, to name just two. She quietly stepped up to assist whenever needed.
In June, 2017 the Branch nominated Audrey to receive the Ontario Volunteer Service Award in recognition of 30 years of service to the Branch.
In accordance with Audrey's wishes, there was no funeral. An online obituary can be found at Obituary – Audrey Irene Merkley Bailey.
CLARA SNOOK U.E.
We are deeply saddened to learn of the passing of our long-time member Clara Snook. Our sympathies go to her husband Glenn, also a Loyalist descendant. A photo of Clara and obituary can be found online at Your Life Moments – Clara Snook
PHILIP SMART U.E.
We have lost one of our longest members. Robert "Philip" Smart passed away on April 4, 2017 after a long struggle with Parkinson's disease. A lovely photo of Phil and obituary can be found online at Your Life Moments – Robert "Phillip" Smart. Phil contributed much to our Branch, and objects such as the scrapbooks he entrusted to our care will continue to remind us of his deep interest in his Loyalist heritage.
JOHN FREDERICK SANDERS U.E.
We are saddened to report the passing on November 19, 2016 of a long-time member of Kingston and District Branch, John Frederick Sanders UE,  a descendant of Loyalist Daniel Walker. John's obituary can be found at Your Life Moments – John Frederick Sanders
DONALD ARTHUR CAMERON U.E.
We are sorry to report the passing of Donald Arthur Cameron UE on August 18, 2016, just six months after the death of his wife Betty (see below).. He had been a Branch member for more than a dozen years (sorry, a little gap in our records pre-computer days means we don't have an exact count of membership years). He was a descendant of Henry Gallinger UEL. You can read Don's notice from the Kingston Whig-Standard at Your Life Moments – Donald Arthur Cameron
BETTY CAMERON
Betty's husband Don previously served on our branch House committee and attended our general meetings, He was also active in the Kingston Heritage fair.
Betty was a strong supporter of Edith Rankin United Church and was in the U.C.W. for many, many years. Both Betty and Don were well known in the Kingston area.
At our January 2016 meeting, we were able to admire a lovely framed version of the UEL Crest made by Betty, even though she herself had no Loyalist ancestry. Don has generously donated the beautiful needlework crest to our branch. It will be proudly displayed at all our branch meetings.
Unfortunately Betty passed away soon after, on February 19, 2016. You can read Betty's obituary online at http://www.smithfuneralhome.ca/obituaries/item/42427-shirley-elizabeth-betty-cameron.html
GERALD HOWES
Gerald and his wife Miriam have been family members of Kingston and District Branch since 2008. Gerald was working to prove his UE descent. Unfortunately he passed away on Sunday, January 10, 2016. We extend our condolences to Miriam and to their children and grandchildren. An obituary outlining Gerald's many interests may be found at http://www.trousdalefuneralhome.com/obits/obituary.php?id=586471.
DAVID MALLORY WEBSTER
Passed away peacefully at Kingston General Hospital on Saturday May 16, 2015. David Webster beloved husband of Catherine (Kay) and dear father of Elizabeth (Darin), Robert (Dianne) and Daniel (Kate). Loving grandfather of Haley, James, Petra and Sydney. Brother of Robert and the late John. In keeping with David's wishes cremation has taken place. A private family service will be held at a later date. Memorial donations to Heart and Stroke foundation 5-720 Progress Avenue Kingston Ont. K7M 4W9 or Royal Canadian Legion 491 116 Bay Street Seeley's Bay Ontario K0H 2N0 would be appreciated by the family.
David's wife remains a member of Kingston and District Branch. Our sincere sympathies, Kay.
JOHN ROSS MATHESON, O.C., K.St.J., C.D., Q.C, U.E., LL.D

November 2008: Carol Davy, John Matheson, Edith Matheson, Peter Davy
John Matheson died December 27, 2013 at the age of 96. He will be remembered across Canada as the co-designer (with the late George Stanley, former Principal of Royal Military College of Canada) of the Canadian flag, first raised over Parliament on February 15, 1965. He will also be commemorated as the instigator of the Order of Canada. But we in Kingston and District Branch UELAC will also remember him fondly as a long-time member of our branch, and a worthy descendant of his Loyalist ancestors.

A full tribute to John may be found at Your Life Moments.

A "Heritage Minute" recreation of the creation of the flag can be viewed at the Historica Canada website.

And on the UELAC website. you can read an article that Judge Matheson contributed to the 1984 Loyalist Gazette – click here.
JOHN BUCK U.E.
John passed in his sleep on Friday, November 29, 2013 in Long Sault, Ontario, where he had moved from Kingston earlier this year. John was a charter member of Kingston and District Branch UELAC. He held various executive positions, and was always willing to help out with other tasks. He enjoyed dressing in the Loyalist costume he'd made himself for the 1984 Bicentennial convention held in Kingston. Many of us will also remember his musical talent as a member of the Kingston Olde Tyme Fiddlers.
The notice at Your Life Moments summarizes perfectly, "He will be missed by all for his generosity, sense of humor and musical talent."
photo 2008 courtesy of Peter and Carol Davy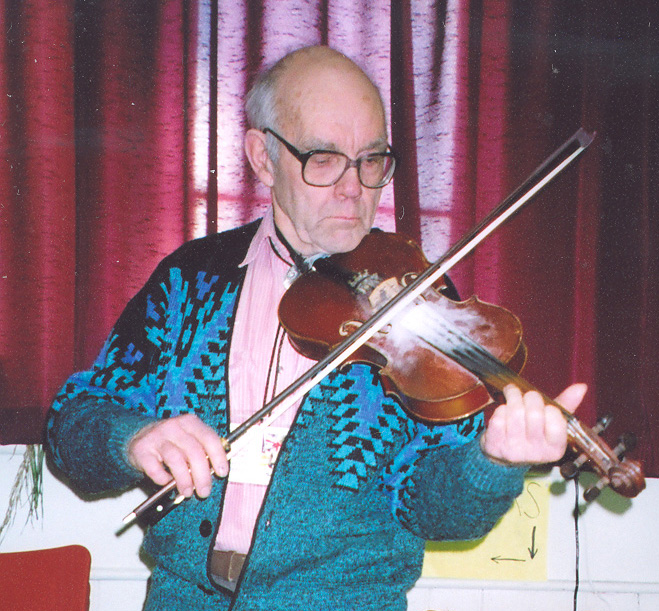 KEITH ABEL U.E.
Keith passed away at home on Saturday, October 26, 2013, aged 87. Keith had not been able to attend branch meetings for a number of years, but had remained interested in his Loyalist roots.
There is an obituary complete with photograph at Your Life Moments.
H. GORDON SMITH U.E. – a tribute by Branch Secretary Anne Redish
At the Kingston General Hospital, on Wednesday, August 28, 2013, aged 76. Gordon, partner of John Robertson. Brother of Mary Ann Currie and husband Don. Uncle of Allyson Sills and David Currie and great-uncle of Jeffrey and Jennifer. Predeceased by his parents, Wilfrid and Elsie Smith, late of Napanee. In accordance with Gordon's wishes, cremation has taken place. A Memorial Service will be held in the Chapel of the James Reid Funeral Home, 1900 John Counter Boulevard, Kingston, on Saturday, September 7, 2013 at 2:00 pm, Rev. Nadene Grieve-Deslippe officiating. The family will receive friends during the reception in the James Reid Reception Centre, following the service. A private family inurnment at a later date. As expressions of sympathy and in lieu of flowers, contributions in Gordon's memory may be made to the Kingston General Hospital, payable to: University Hospitals Kingston Foundation, 55 Rideau Street, Suite 4, Kingston, ON K7K 2Z8.
Gordon was a member of Kingston Branch. We became acquainted through our U.E.L. branch where we discovered that we shared the search for elusive Smith ancestors, due to the repetition of that common name. He was always cheerful and interesting to talk to. I always thought of him too when I was researching and saw the Hawley name to which he was also connected. Gordon shared the Membership responsibilities for Kingston and District Branch. He will be deeply missed by his loyalist friends, and also by his friends in the Kingston Branch of the Ontario Genealogical Society, where he contributed to the typing and editing of various transcriptions of old records.
See Gordon's online obituary at Your Life Moments.
JOHN CHARD, U.E.
E. John Chard, BA M.ED UE died suddenly at the Kingston General Hospital on Friday May 17th, 2013, in his 91st year. John was the son of the late Clarence and Rita Chard, and was also predeceased by his brother Richard Chard. His funeral service was held at the Stirling Funeral Chapel, Stirling, Ontario on Thursday May 23rd, 2013 and was followed by interment in Stirling Cemetery.
John was a Past Dominion President of the United Empire Loyalists' Association of Canada (UELAC). John was instrumental in the formation of over fifteen UELAC Branches across Canada, in resurrecting and developing thy Loyalist Gazette after some thirty years absence, and staffing and managing Dominion Office for many years.
John contributed to Kingston and District Branch in many ways. At the time of his death he was serving as Librarian, and had done so for many years. Under John's quiet and efficient care our branch library has grown to include a number of excellent books and other materials on Loyalists and early times in the Kingston area.
In 2009, John was presented with the Dorchester Award, and in 2012 he was inducted into the Bay of Quinte Branch Loyalist Hall of Honour. The citations for these honours illustrate just how greatly John Chard contributed to the United Empire Loyalist Association of Canada.
John will be truly missed, and long remembered.
GERRY RONEY U.E.
Kingston and District Branch lost its longest-serving Treasurer (just over 20 years) when Gerry Roney UE passed away peacefully on January 25, 2020 in his 89th year. Gerry was well known around Kingston, both for his long career heading his own structural engineering firm, and for his active involvement with numerous local groups and activities. The obituary found at https://thewhig.remembering.ca/obituary/gerald-roney-1078332330 lists some of his many contributions to the Kingston area. For the Branch, Gerry spearheaded acquiring an Ontario business registration in 1997 so that the Branch could apply for grants. His careful stewardship of funds acquired from such grants and from hosting previous conferences has created a solid financial status for the branch moving forward, even when membership numbers fluctuate. Gerry's soft-spoken presence at meetings will be missed.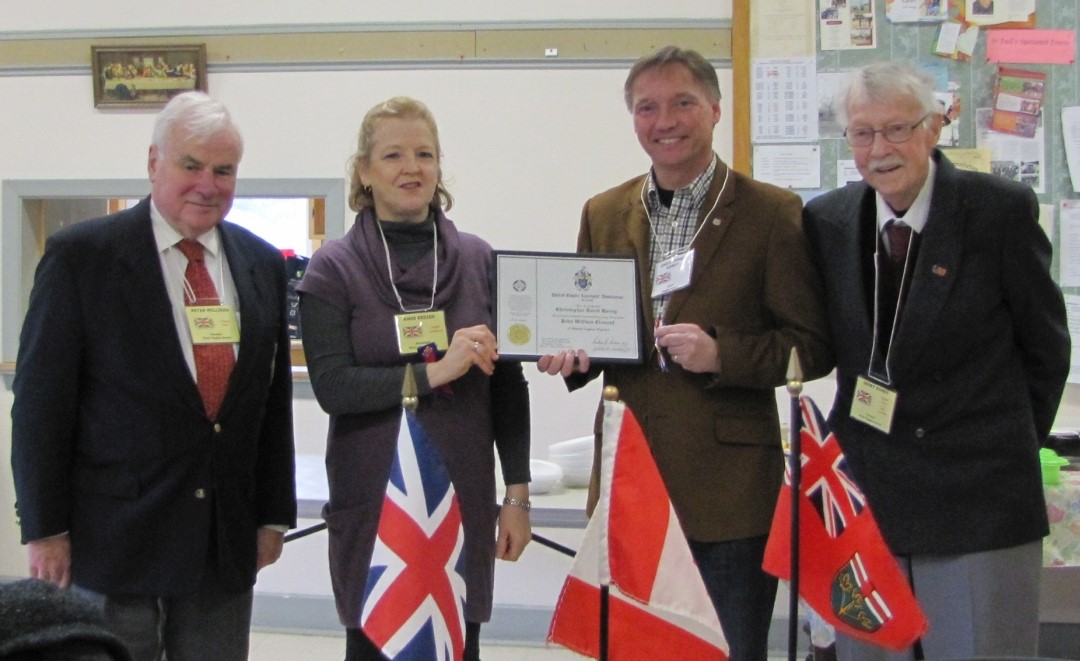 "Gerry Roney UE, right, beamed proudly as his son Chris received his own UE certificate in January, 2017 while Branch President Peter Milliken and Branch Genealogist Anne Redish looked on."
——–
Help preserve the memories of our loved ones, donate to UELAC today!