Branch Events Archive
See also: Upcoming Events
2019 UELAC Conference: The Capital Calls
May 30 – June 2, 2019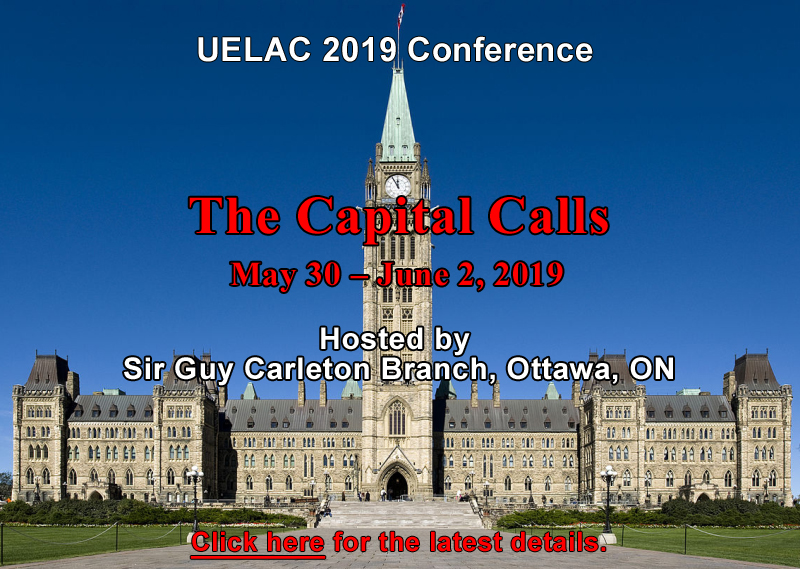 Details are online:
---
Spring Social / Annual General Meeting
Saturday, April 6, 2019
---
"Brain Storming" Session and No-Host Buffet Luncheon
Tuesday, September 18, 11:00 am
YangMing Asian Buffet, 1547 Merivale Road (Emerald Plaza)
$13.00 (parking is free)

This is planned as a short (30-45 min) round-table discussion to plan the way ahead for the Branch and add interest for members. A social time and buffet luncheon will follow the discussion.

We look forward to getting the views of many members. All Members of the Sir Guy Carleton Branch are welcome (no guests, please). No need to reserve a place; there will be room for all.
---
Cornwall Post Office Loyalist plaque re-dedication
Sunday, August 12, 1:00-2:00pm
Wood House Museum, 160 Water St. W., Cornwall

Sir Guy Carleton Branch invites members to attend the re-dedication of the original Loyalist plaque (circa 1930s) once displayed on the original Cornwall Post Office.

The event, on August 12, will be hosted by the Stormont, Dundas and Glengarry Historical Society in conjunction with the United Empire Loyalists' Association of Canada (UELAC).

See the flyer (JPG) for more details.
---
Sir Guy Carleton Spring Social and Annual General Meeting
April, 28 2018
---
Loyalist Clothing Workshop
March 10, 2018

Anne Redish, Kingston Branch, UELAC, gave an informative and entertaining presentation on women's fashions of the Loyalist era. Her emphasis was on creating accurate attire of the period, not dressing in what she called a "Halloween costume."
— Read more, with pictures
---
Loyalist Flag-Raising at Ottawa City Hall
June 16, 2017

The Ontario Genealogical Society's annual conference for 2017 incorporated the raising of a Loyalist flag at Ottawa City Hall on Friday, June 16th.
— Read more, with pictures
---
Beechwood Cemetery Tour
September 14, 2014

In celebration of the 100th anniversary of the UELAC, the Sir Guy Carleton Branch conducted a tour of Beechwood Cemetery, Ottawa, to highlight the lives of Loyalists and their descendants who are buried there. This historic cemetery is the final resting place for more than 75,000 Canadians, including Canadian Forces veterans, prime ministers, and everyday Canadians.
— Read more, with pictures
— Descendants of Loyalists in Beechwood Cemetery – celebrating the 100th anniversary of the Dominion Association
---
The Queen and the United Empire Loyalists
June 2010

Tuesday 29 June began as a pleasant summer day, a great day in fact for gardening in the morning and perhaps a trip to an archive in the afternoon. Then everything changed! Unknown to those of us in Ottawa, Fred Hayward received a telephone call at his home in Oakville from Rideau Hall, the residence of the Governor General, at 10 am that morning. Would he please provide the names of ten Loyalists who would be guests at the Queen's tree planting ceremony at Rideau Hall the next afternoon, and by noon time no less.
— Read more, with pictures
---
UEL Mohawk Valley Tour 2006
October 1-4, 2006

Loyalist Bus Tour organizers George Anderson and Edward Kipp conducted Loyalist trip to the Mohawk Valley in October 2006. The tour began in Ottawa and visited twelve sites.
— See pictures by Bill Reid
— Read the description of the destination sites on the UELAC Dominion website
---
Loyalist Rose presented to The Central Experimental Farm in Ottawa
June 8, 2006

The Sir Guy Carleton Branch United Empire Loyalists' Association of Canada held an impromptu Loyalist Rose presentation ceremony at the Central Experimental Farm in Ottawa. .
— Read more, with pictures