For further information or to view the church by special arrangement please contact a church warden.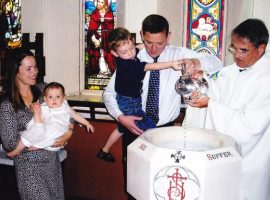 A baptism at St. Alban's.
Click here for larger version.
For inquiries about the book The Loyalist Tiles of St. Alban's, please contact Diane Berlet, chairperson of the St. Alban's History Committee, by email at dianeberlet4@aol.com or by telephone at 613-373-8865.
The church is available for weddings, baptisms and funerals. Church tours are given most Saturday mornings from 10-12 throughout the summer. Sunday Services held at 11 a.m. throughout the year are presided over by the Reverend Dr. John Walmsley. St. Alban's cemetery is still active and well cared for and plots are available. For information, contact Lewis Punchard at punchards@kos.net or by telephone at 613-373-2372.
A memorial book is maintained in the church and individuals whose names are entered therein are remembered once a year on a rotational basis during a Sunday service.
To learn more about any of these services please contact Reverend Dr. John Walmsley by email at drjohnwalmsley@gmail.com or by telephone at 613-766-6058.