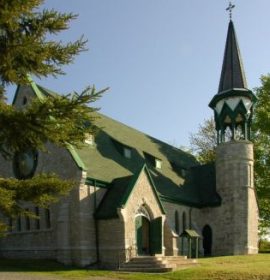 St. Alban The Martyr Memorial Church
Click here for larger version.
St. Alban the Martyr U.E.L. Memorial Church stands by the side of the road in the quiet hamlet of Adolphustown close to the landing site of the fourth town contingent of the United Empire Loyalists in Adolphustown Creek on June 16, 1784.
Construction of the church, which lasted several years, began in 1884 to commemorate the 100th anniversary of the landing. Ontario Lieutenant-Governor John Beverly Robinson laid the cornerstone on June 17, 1884. The first service was held on June 25, 1890.
The church contains a number of memorial tiles dedicated to Loyalists and their children. This unique feature of St. Alban's, and a related fundraising project (high quality photos of the tiles), are more completely described here.
The Province of Ontario has placed a historical plaque by the church; for the Loyalist plaque, see the UELAC page about the Loyalist Memorial Church plaque.
The church has many interesting features, including a marble baptismal font, flags that are replicas of the colours that the Queen's Rangers American Regiment carried during the American Revolution 1775-1783, and a unique bell tower. A bell, crafted in Bristol, England and believed to be the oldest church bell in Ontario, was gifted to the church and is in the process of being restored for display in the church. A more complete written guide to special features of the church and a history of the clergy who have served the parish is available at the church. Visitors are always welcome.
One of the special services held each year is the Annual UEL Service held about mid-June, close to the date of the Loyalist Landing.
For further information or to tour the church, please visit the St. Alban's Centre website.
St. Alban the Martyr Memorial Church is located at 10419 Hwy 33, Adolphustown, ON (K0H 1G0).
See contact info and driving directions for more.