1984 United Empire Loyalist Stamp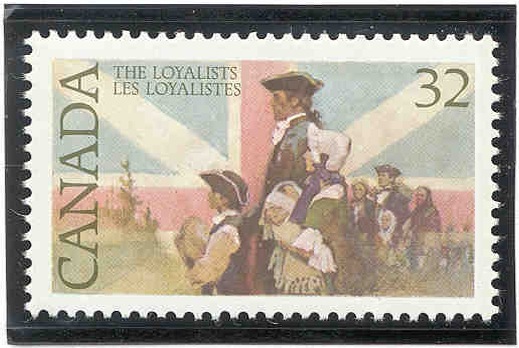 1984 Loyalist Stamp
200th Anniversary of Arrival in Canada
This stamp was issued on July 3, 1984, to commemorate the 200th anniversary of the arrival in Canada of the United Empire Loyalists. The Loyalist stamp was designed by Toronto illustrator Will Davies and produced in five colour photolithography by the British American Bank Note Company in Ottawa.
The design features a group of people in eighteenth century attire. They represent a cross-section of the classes of society who were Loyalists. In the background is the Grand Union flag, the British flag used from 1606 to 1801.
Thirty million stamps were issued in panes of 50 subjects. The stamp, which is comb perforated 13.1 horizontally by 13.3 vertically, has an overall size of 40mm by 24mm, with the design itself measuring 36mm by 20mm.
Loyalists were the colonists who remained devoted to Great Britain during the American Revolution. John Adams, a future American president, estimated that about one-third the population of the Thirteen Colonies were Loyalists. At least 20,000 of them joined the army to defend the British cause. These factors turned the Rebellion into a bitter civil war.
Histories of the period tell of atrocities on both sides. For example, Revolutionaries tarred and feathered many Loyalists and hanged some as traitors. They took the view that a Loyalist was "a thing whose head is in England and its body in America, and its neck ought to be stretched." Colonies passed laws disenfranchising Loyalists and confiscating their property.
The treaty of 1783, which ended the war, failed to stop these persecutions, so while the majority of Loyalists quietly made their peace with the victorious regime, approximately 100,000 fled. Of these, some 50,000 chose what is now Canada. About 35,000 arrived in the future Maritime Provinces and the rest settled in what became Quebec and Ontario.
While a portion of the refugees were merchants, labourers, public office holders or professionals, most were farmers, an occupation that helped their pioneering efforts here in Canada. Loyalists included Germans, Swiss, Dutch, British, Indians and Blacks as well as groups of Quakers and Mennonites. The Imperial government helped these people get established by giving them food, land and equipment.
Loyalists opened up wide areas of Canada. Loyalist pressure led to the creation of New Brunswick and Upper Canada. Thus the Loyalists, in overcoming personal tragedy, benefited Canada and changed its character.

Darnell catalogue number: 1063
Minkus catalogue number: 1087
Scott/Unitrade catalogue number: 1028
Stanley Gibbons catalogue number: 1124
— Tom Meyerhof, 28 Jan 2008
References:
Canada Post Corporation. [Postage Stamp Press Release], 1984.