1934 Loyalist Stamp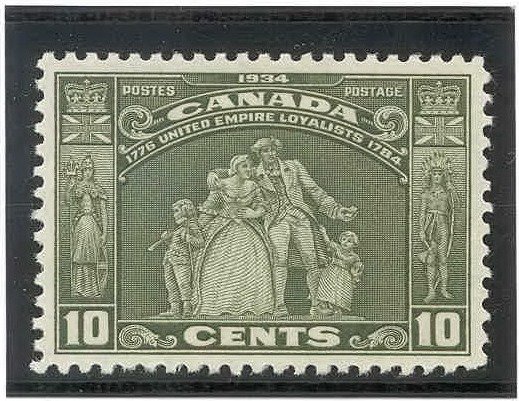 1934 Loyalist Stamp
150th Anniversary of Arrival in Canada
This stamp, which has often been considered one of the most beautiful in the world, was issued on Dominion Day, July 1 1934, to commemorate the 150th anniversary of the arrival in Canada of the United Empire Loyalists who fled from the United States. It was steel engraved and printed in an olive green colour by the British American Bank Note Company in Ottawa. It was issued in panes of 50 subjects using 1 plate to print three million stamps. The stamp, which is line perforated 11, has an overall size of 38.5mm by 26.5mm, with the design itself measuring 35.5mm by 23.5mm. It was designed by Robert Bruce McCracken and is based on a sculpture by Sydney March, Farnborough, England. The sculpture itself was executed in the Goddendene studios of the March brothers at Teddington, England. Against a background of cross-hatchings, the central vignette of the stamp, a reproduction of the United Empire Loyalist Monument, shows a sculpture of a family group of a father, mother, and two children dressed in the attire of the Revolutionary period. On either side of the central design are depicted the figures of Britannia and a Mohawk Indian, both surmounted by a Crown and a Union Jack. Britannia is intended to personify the British Empire and to illustrate further the allegiance to the Empire of the Loyalists of British ancestry. The Mohawk Indian commemorates the part played in the Loyalist migration by those Indians who elected to remain loyal to the British during the American Revolution.
The United Empire Loyalist Monument was erected in Prince's Square in front of the Wentworth County Court House at Hamilton Ontario and unveiled on Empire Day, May 23 1929, in memory of these pioneers. The bronze plinth depicts the moment in the life of the Loyalist and his faithful partner, when having drawn his lot number from the Government surveyor, he and his wife are looking forward with satisfaction and keenness, not unmixed with curiosity, to the location of their new home in what was to become Canada, after the turmoil of many years of warfare and after having lost all their worldly possessions.
The pedestal of the monument is constructed entirely and fittingly of Queenston dolomite from quarries situated almost on the battlefield of Queenston Heights on the Canadian side of the Niagara River. The height of the stone pedestal is 7½ feet (2.3m) and the base measures 10½ feet (3.2m) by 18½ feet (5.7m). The height of the Loyalist is 8 feet (2.5m) and the other figures are in proportion. The weight of the bronze group of four persons and the bronze base on which it stands is approximately 3½ tons (3200 kg). There are 4 bronze panels attached to the sides of the pedestal which tell the story of the United Empire Loyalists.
The front panel inscription facing north to Main Street reads: "This monument is dedicated to the lasting memory of THE UNITED EMPIRE LOYALISTS who after the Declaration of Independence, came into British North America from the seceded American colonies and who, with faith and fortitude, and under great pioneering difficulties, largely laid the foundations of this Canadian nation as an integral part of the British Empire. Neither confiscation of their property, the pitiless persecution of their kinsmen in revolt, nor the galling chains of imprisonment could break their spirits nor divorce them from a loyalty almost without parallel. 'No county ever had such founders – no country in the world – no not since the days of Abraham.' – Lady Tennyson."
The east panel inscription reads: "The United Empire Loyalists were distinguished for their devotion to principle, for their valour in battle during the American Revolution and for their loyalty and bravery in the war of 1812-1814 in defence of Canadian homes and hearths. They set the stamp of their character in the institutions of this country and handed them to the succeeding generations glorified by their sacrifices, enriched by their labours and made sure by their indomitable spirit."
The west panel inscription reads: "Dedicated to the glory of God. Erected by Mr. and Mrs. Stanley Mills of Hamilton, in grateful memory of their United Empire Loyalist forebears and connections, the Davis, Gage, Hesse, Howell, Mills and Willson families. Unveiled Empire Day, May twenty-third, nineteen hundred and twenty-nine."
The south panel inscription, facing the Wentworth County Court House building, reads: "For the unity of empire. The United Empire Loyalists, believing that a monarchy was better than a republic, and shrinking with abhorrence from a dismemberment of the empire, were willing, rather than lose the one and endure the other, to bear with temporary injustice. Taking up arms for the King, they passed through all the horrors of civil war and bore what was worse than death, the hatred of their fellow country-men, and, when the battle went against them, sought no compromise, but, forsaking every possession excepting their honour, set their faces towards the wilderness of British North America to begin, amid untold hardships, life anew under the flag they revered. 'They drew lots for their lands and with their axes cleared the forest and with their hoes planted the seed of Canada's future greatness.' – Elizabeth Bowman-Spohn."

Darnell catalogue number: 205
Minkus catalogue number: 234
Scott/Unitrade catalogue number: 209
Stanley Gibbons catalogue number: 333
— Tom Meyerhof, 16 Jan 2008
References:
W.S. Boggs, The Postage Stamps and Postal History of Canada, 1945, Quarterman Publications Inc. reprint, Lawrence MA, 1974
D. Patrick, M. Patrick, Canada's Postage Stamps, McClelland and Stewart Ltd., Toronto ON, 1964