Royal Visit November 2009
TRH Prince Charles and Camilla, Duchess of Cornwall, Visit Canada in November 2009
His Royal Highness Prince Charles and Her Royal Highness The Duchess of Cornwall visited Canada for ten days in November of 2009. At stops in Newfoundland, Ontario, British Columbia and Quebec, they found many who welcomed their visit. The following was provided by President Fred Hayward and was published in Loyalist Trails 2009-46 Nov 15, 2009.
The UELAC path to Dundurn Castle on November 5 was indeed one of those long and winding roads. In the congratulatory letter to His Royal Highness Prince Charles on his sixtieth birthday last year, I expressed the wish that one day he would witness Her Royal Highness The Duchess of Cornwall receive a Certificate of Loyalist Lineage here in Canada. It could have been for Ephraim Jones UEL whose wife's lineage would show deep roots in Canada's early French settlement. It could also have been for the Rev. John Stuart UEL, Chaplain for the 2nd Battalion of the King's Royal Regiment of New York, who settled in Kingston. (Since 1978, seventeen descendants of Rev. John Stuart have verified their lineage to this United Empire Loyalist.) Immediately following the announcement of the Royal Tour in June, a letter was sent to Kevin S. MacLeod, C.V.O.., CD, The Canadian Secretary to the Queen, outlining a few possible scenarios that would involve UELAC. On July 3, Ishbel Halliday, MVO, Co-ordinator, Ceremonial and Special Events, Cabinet Office - Intergovernmental Affairs , International Relations and Protocol advised that she would be in contact once plans could be developed for the Ontario part of the Royal Tour. There would be many meetings, emails and telephone calls in the next several months as plans were developed and redeveloped for the Dundurn Castle venue, home to the great granddaughter of both Rev. Stuart and Ephraim Jones.

At the same time, Rod Craig, genealogist for the Col. John Butler Branch, researched and completed the necessary application form with required proofs to be presented to Elizabeth Hancocks, the UELAC Genealogist. However, timing and protocol would prevent any formal presentation as part of the Royal Tour. The presence of UELAC at Dundurn Castle was to be acknowledged only with the inclusion of 20 representatives in the VIP area near the oak tree to be planted following the tour of Dundurn Castle. Angela & Peter Johnson, Bob and Grietje McBride, Sue Hines, Bev Craig, Gloria and Lloyd Oakes, Ruth Nicholson agreed to attend. As we had been asked for a "youth" component, I invited my five Brownlee granddaughters from Hanmer to assist me with any gifting. The key to our eventual recognition by the Royal Couple was the presence of a descendant of the Rev. John Stuart, Okill Stuart, UELAC President 1994-1996 who was accompanied by his wife, Sylvia and her daughter, Lesley Liddy. Not only did Okill attract the TV media, he was also quoted in the Hamilton Spectator, our sole local reference. Okill insisted it was his medals of war and honour that attracted the attention of the Prince and the Duchess, but that gave him the opportunity to advise them that the UELAC had some special presents.

Moving ahead, HRH Prince Charles was handed a royal blue folder emblazoned with our armorial bearings and containing a Certificate of Loyalist Lineage from the Rev. John Stuart by Aidan Brownlee. From her younger sister, Miriam, he received a blue United Empire Loyalist Commemorative Plate which had been donated by Rod and Bev Craig on behalf of the UELAC. Not everyone was eager to be touched by royalty. HRH Duchess of Cornwall found five-year-old Eleanor was too shy to shake her hand. She had to be content with shaking the paws of Eleanor's toy cat instead.

Although no UELAC presentation was made at Dundurn Castle, HRH Prince Charles did witness our gifts to HRH The Duchess of Cornwall here in Canada.
Photos from the Hamilton visit as well as a couple from Montreal and Toronto are shown below (in many cases, when looking at the larger picture, your browser has a function which will let you zoom in - in Internet Explorer and Firefox, hold Ctrl and press + once or multiple times). Photos and images provided by Fred Hayward unless otherwise noted.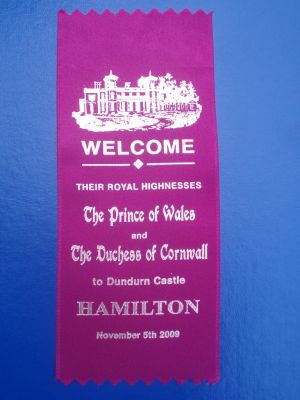 Ribbon celebrating visit to Dundurn Castle.
Larger picture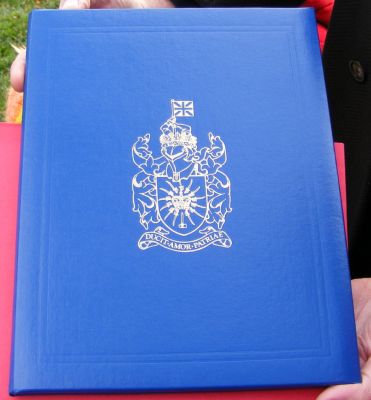 Folder in which the Loyalist certificate was enclosed.
Larger picture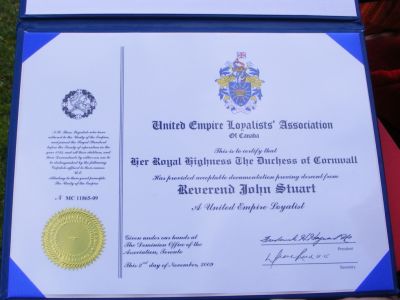 The Loyalist certificate for Her Royal Highness descended from Rev. John Stuart
Larger picture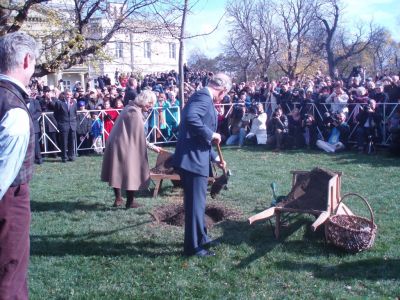 Tree planting by TRH Prince Charles and The Duchess of Cornwall, Camilla
Larger picture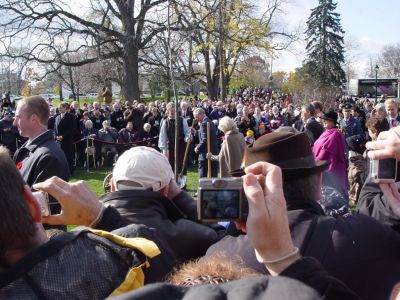 The audience for the tree planting ceremony.
Okill Stuart is standing between Prince Charles and the new tree.
Sylvia Stuart is seated, just to the left of the Dundurn interpreter.
Angela Johnson is seated next to Sylvia.
Fred Hayward, with camera, is to the right of Camilla with the Brownlee girls in front of and to the right of him
Bob McBride is second to the right of Fred.
Photo by Kenneth Bird
Larger picture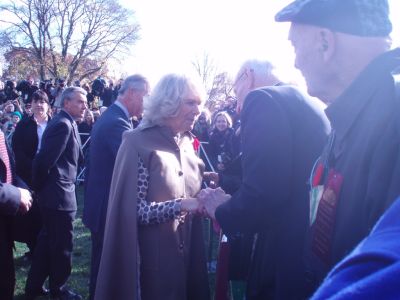 Camilla speaking with Okill Stuart
Larger picture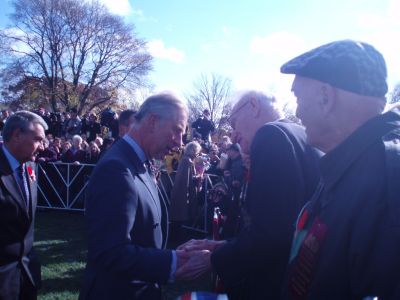 Prince Charles speaking with Okill Stuart
Larger picture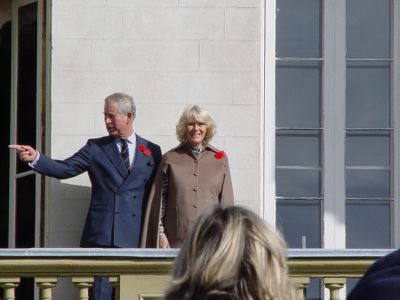 Prince Charles and Camilla on the balcony at Dundurn
Photo by Kenneth Bird
Larger picture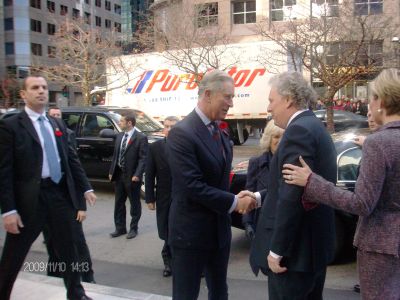 Prince Charles and Jean Charest, Premier of Quebec, in Montreal
Larger picture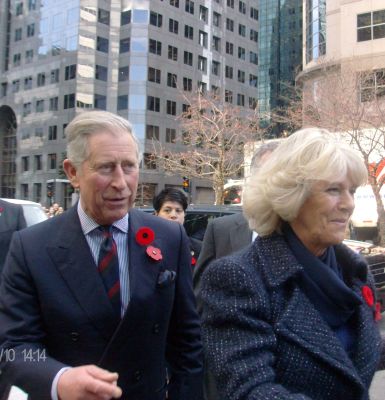 Prince Charles and Camilla in Montreal
Photo by Maura Wilkins
Larger picture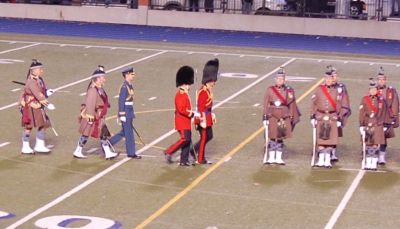 Prince Charles presented new colours to two regiments,
The Royal Regiment of Canada and
the Toronto Scottish Regiment (Queen Elizabeth the Queen Mother's Own) in Toronto.
Here Prince Charles (first in scarlet tunic) reviews the Toronto Scottish.
Photo by Doug Grant
Larger picture of the bigger field


Here Prince Charles (second from left) reviews the The Royal Regiment of Canada.
Camilla is at right.
Photo by Doug Grant
Larger picture of the bigger field