Sir John Johnson Centennial Branch Membership
Membership
We welcome to our branch anyone with an interest in history, especially the Loyalist era here in the Eastern Townships. To our members, we offer a minimum of two meetings with interesting speakers, display tables with historical and loyalist items, and opportunities for discussion, networking and fellowship. In addition we also plan an annual picnic and heritage church service. Each year, Sir John Johnson Centennial Branch publishes three issues of its newsletter.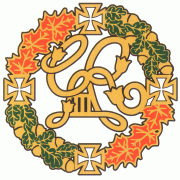 The UELAC Member's Badge
On joining the Sir John Johnson Centennial Branch, one also becomes a member of its parent organization, the United Empire Loyalists' Association of Canada. The UELAC publishes the Loyalist Gazette twice each year, in spring and fall. You will receive this too with your membership. You are also welcome to subscribe to the free Loyalist Trails newsletter, which is electronically distributed every seven to ten days.
The current fees for membership in Sir John Johnson Centennial Branch are $40.00 per year for an individual, or $55 for family of two or more at the same address, who will receive a single set of mailings. The membership is for the calendar year, but for members joining after July 1, the fees are reduced.
Some people join more than one branch. Other than in one's primary branch where full fees are paid, most branches offer reduced fees for those who join multiple branches - as no costs are incurred by second and successive branches for the Loyalist Gazette for example.
Once a member, anyone with Loyalist ancestry can prove that ancestry genealogically by applying for a certificate which attests to that fact. The Branch genealogist will provide the application form and guidance on the research and process. The one-time fee to make application is $40, and is paid at the time the form is submitted to the UELAC Dominion genealogist.
For more information about membership in the Sir John Johnson Centennial Branch, contact the Membership Chair.