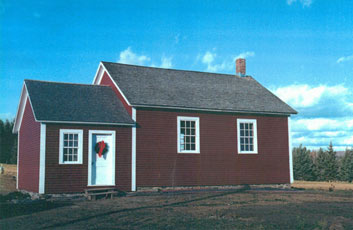 The school was built on land originally granted to Abraham Hyatt Sr., located in Hyatt Settlement, now known as Milby. Our earliest notarial records show that the school was in use in November 1822. This is one of the oldest surviving buildings in this area, and is located on McVety Road close to St. Barnabas Anglican Church built in 1874 and the Covered Bridge built a year earlier.
Hyatt Settlement was settled in the late 18th century and was an early haven for United Empire Loyalists seeking refuge after the American Revolution in the United States. They found peace, prosperity and a new home in this idyllic settlement where the Ascot(t) and Moe's Rivers converge and where they proceeded to build houses as well as a gristmill, sawmill, general store and cheese factory. Among the settlers were Cornelius and Abraham Jr., sons of Abraham Sr., whereas their brother Gilbert Hyatt settled in Hyatt's Mills, now known as Sherbrooke.
The Hyatt One-Room Schoolhouse, District No. 2, Township of Ascot(t), was restored as the prime project for members of Little Forks Branch UELAC, through Patrimoine-Ascott-Heritage, and was re-opened 22 June 2002
During its restoration, the schoolhouse was moved onto a new foundation, part of the main structure rebuilt and the entire building stabilized with a steel beam. The original stones were mortared to the cement foundation, giving it the appearance of originality. The clapboard siding has been freshly painted "Country Red" and the window trim in white. The classroom still holds the markings of where the original desks were screwed to the wide spruce board flooring and the pine wainscoting on the walls indicates where the desks were once placed. Artifacts, schoolbooks and historical material, along with the promise of taped interviews with former students and teachers, help to transform the renewed building into an authentic heritage site. The complete restoration includes a beautiful room in the basement that can be used by the community and for holding functional, animated, historical and educational activities.
By Beverly Loomis U.E.
President, Little Forks Branch UELAC
& Patrimoine-Ascott-Heritage,Lennoxville, PQ