Where in the World ... ?
Where are Michel Lewis and Pat Blackburn (Hamilton) with Peter Scandlan and Patricia Scott (Nova Scotia Branch)?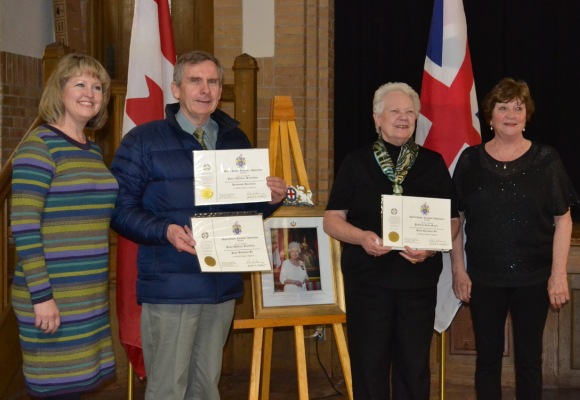 Answer: [ Recent Nova Scotia members Peter Scandlan and his aunt, Patricia Scott of Ontario, were presented with their certificates in Hamilton, ON on Feb 23, 2017. Ancestors are Jeremiah RUSHTON and his father, John RUSHTON Sr., Westchester Refugees to Cumberland County, NS. Thank you to Hamilton Branch for making the presentation. ]
Where are (L-R) John Eaman, Ed Morrissey, and John Chard?
Answer: [ On April 20th, 1982 the Halifax-Dartmouth Branch received a new Charter from Association President, John A. Eaman at a ceremony held in St. George's Anglican Church which in 1995 was destroyed by fire. Mr. Edward Morrissey, President, accepted this Charter. In 2013, the Branch was renamed to the Nova Scotia Branch. ]
Where are Carol Harding and Joe Munroe with other members of Nova Scotia Branch?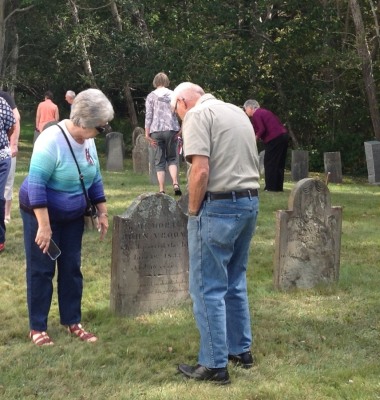 Answer: [ During a tour of graveyard at Old St. Edwards Loyalist Church in Clementsport, NS on Sept. 17, 2016 taken organized by NS Branch, Carol Harding (left) and Joe Munroe, members of the branch, examine one of the Loyalist gravestones. (Submitted by Brian McConnell.) ]
Where are Doug Grant and Nancy Conn, Gov. Simcoe Branch?
Answer: [ While travelling on the Trans-Siberian Express route which goes from Moscow to Beijing, two days were spent in Mongolia. One night was off the train, either in a hotel in Ulan Bator or in a Yurt. Doug and Nancy chose the latter. It was hardly roughing it as had been expected in this camp of about thirty yurts. The wood stove made it warm and cozy in the evening, but it was chilly by morning. The scenery was rather spectacular in this valley between mountain ranges. Yurt camps are rather popular – four in this one photo. ]
Where are Susan Hutchins (Bicentennial Br.), Ruth Nicholson and Jean Rae Baxter (Hamilton Br.), and Peter & Carol Davey (Kingston Branch)?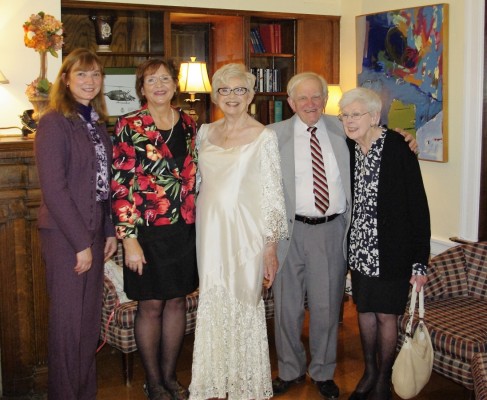 Answer: [ If the title isn't a dead giveaway and this second photo doesn't help, these photos were taking at the wedding of Jean Rae Baxter, UE, to Leigh Smith, on Oct. 22, 2016. The reception was held at Queen's University Hall, Kingston. Congratulations to Jean and Leigh from the UELAC! ]
Reach Out, Reach Up, Reach Forward
Where are Hamilton Branch members Pat Blackburn, Ruth Nicholson, Paul Lewington, and Marilyn Hardsand?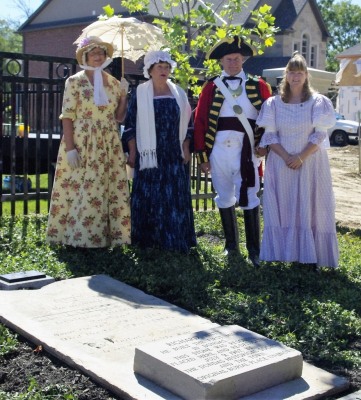 Answer: [ The four Hamilton Branch members attended the re-dedication of the Cooley-Hatt Cemetery, Ancaster in Sept. 2016. This pioneer cemetery was saved from being part of a new housing development, mainly through the efforts of Rick Hatt of Niagara, a descendant of Richard Hatt. Note that Richard Hatt was not a Loyalist himself, but married the daughter of Loyalist Preserved Cooley. (See the plaque up close.) ]
Where are Vancouver Branch Past President Carl Stymiest and Chilliwack Branch Genealogist Marlene Dance?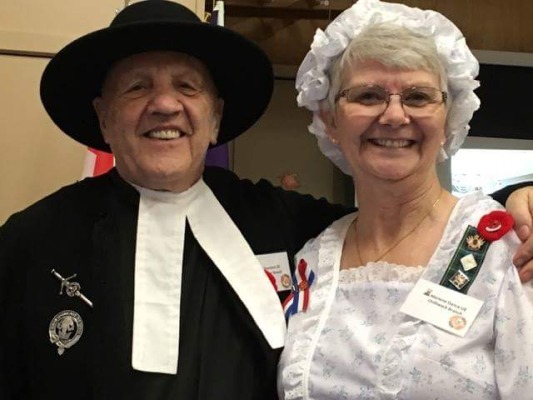 Answer: [ Each Fall the Pacific Region Branches UELAC celebrate the Landing of the Fall Fleet in 1782 in Nova Scotia which then included what a year later became the new colony of New Brunswick. Carl and Marlene are witnessing the presentation of Loyalist Certificates during the event which in 2016 was hosted by Chilliwack Branch. ]
But wait ... there's more!