Dominion Projects
Spring Sellout - Final Offer
Thanks to outstanding support from Kingston, Toronto and Grand River Branches we are now down to the final EIGHT sets. There will not be a third order from MTO.
This year, on May 27, UELAC will mark the 104th anniversary of its formation when an Act (Chapter 146, 4-5, Geo. V, 1914) was passed by the Parliament of Canada. If you are a new member of an Ontario branch of UELAC, you may not know of our special centenary Ontario Licence Plate project that kicked off the 2014 celebrations. How many of these special plates do you recognize in the parking lot when you attend your branch meetings?
[Updated 12 May 2018.] With 8 plates beginning with 02UE, you still have a chance to get a plate that you will remember and cause comments wherever you drive. SAVE: until May 27 you can save 30 dollars off the original price when you place your order. That means we will also ship your request FREE!
Take these 2 steps now:
If you have already shown your support of this UELAC Project, thank you.
Buy one as a special gift for a family member.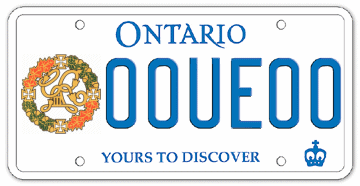 Sample Loyalist license plate
In March 2012, Dominion Council approved a project to help promote our Loyalist heritage, and UELAC itself, through Ontario graphic licence plates.
The design utilizes of the UELAC badge as the license plate graphic. If the project is successful, there will be three types of plates:
1. Standard plates will have the UELAC badge and an alphanumeric sequence with the initials UE, e.g., 01UE23 as illustrated in the mock-up design to the right. The cost will be $110 for the first set in each order including shipping, and $100 for each additional set.
To proceed, a minimum of 200 standard plate sets must be purchased; we will not proceed until we can pre-sell enough to cover the cost. Note that personalized plates (below) will not count toward the 200 minimum purchase and will not be available until the first 200 are sold. However, it would be helpful for planning purposes to know if anyone is interested in purchasing personalized plates.
2. Personalized graphic plates allow for the badge and six characters – they would cost $336.90.
3. Decorative plates meant for people out-of-province or those without a vehicle will be available at a lower cost, but cannot be used as a vehicle licence plate.
As of April, we have received enough preorders to proceed with our application. According to Service Ontario, this should mean that the plates will be manufactured and ready for delivery in November 2013. Nevertheless, we are still taking orders and would very much like to see as many UELAC licence plates on the road next year during the association's centennial. Don't delay – send in your application today!
These plates can easily be given as gifts as well – they will come with an easy-to-use transfer letter that can be taken to any Service Ontario outlet for a licensing sticker.
To order your graphic plates, print the form linked here, and mail it with a cheque to:
UELAC
50 Baldwin St., Suite 202
Toronto ON
M5T 1L4
Branch Assistance
As we expect that the primary group which will buy these plates are members of Ontario Branches (note that we welcome orders from anyone), I will be looking to each of the Ontario branches to really promote this project at meetings and through their branch communications: websites, newsletters, email notes, etc.
For for more information or to learn how you or your branch can help, please email plates@uelac.org.
I am delighted to be the leader on this project and I look forward to hearing from you.
...Ben Thornton, member of Toronto Branch
When will the licence plates be available?
This will depend on you. We need to be confident we can sell the first 200 sets. Once we have found enough interested parties, we will notify everyone, collect the money, and sign the necessary contract with Service Ontario. From that point, it will take 5 or 6 months for the plates to be produced. They will then be delivered to UELAC and distributed. Our aim is to have the money collected and the contract signed by early 2013, which would make the plates available mid-2013.
Can I choose what I want on my licence plates?
The standard plates will be numbered 01UE01 to 01UE99, 02UE01 to 02UE99, etc. We will try to accommodate everyone's preferences within this sequence, likely on a first-come-first-served basis, once we begin collecting the money. If you don't have a preference, then you would simply get the next available plate in the sequence.
Personalized plates would be available once the first 200 standard sets are sold at a cost of $336.40, directly from Service Ontario. These would allow for up to six characters plus the UELAC badge.
Sample plates (single plates, not for use on a vehicle), which might typically used for display or as souvenirs, would be available for $34, and would be numbered beginning with 001SAM, 002SAM, etc. Again, these would not be available until after the first 200 standard sets are sold.
If I buy a set of standard plates, can I trade them in towards the cost of personalized plates?
No. You would have to order a set of personalized plates at the full cost of $336.40.
Will motorcycle licence plates be available?
No. Regrettably, graphic plates for motorcycles are not currently available. Perhaps you also have a car...