Grand River Branch Marks More Loyalist Cemeteries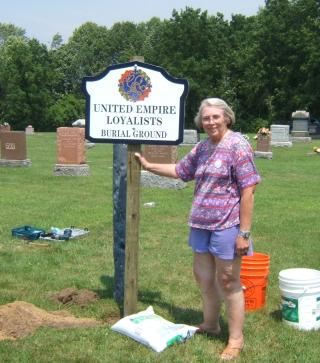 A newly-planted UEL burial ground plaque
For the second year, Grand River Branch has been actively engaged in marking the burial places of Loyalist Ancestors in the Grand River Region. Largely through the work of Marilyn Haslinger and Cathy Thompson we have been able to erect plaques throughout the area.
The Branch has already applied for a 2007 grant from Dominion and we are continuing to look for cemeteries where Loyalist Ancestors are buried. It is anticipated that as we erect more plaques that there will be fewer Loyalists in each cemetery, however it is certainly the goal of the Branch to erect as many plaques as there are cemeteries with Loyalists buried in them.
Cemeteries with Plaques for 2006:
Oakland Pioneer Cemetery
Daniel and Elizabeth Secord; Finlay and Tryphena (Wardell) Malcolm.
Johnson Cemetery - St. Williams
Margaret (Mabee) and Anthony Manuel; Peter and Elsie Procunier; Peter SR. and Leah (Mabee) Montross; Thomas Co
St. John's Woodhouse
Abraham and Sara (Vanderburgh) Rapalje; Ephraim Tisdale; George and Parnel (Mead) Salmon; Jonathan and Mary (Titus) Williams.
McCall Fairchild Cemetery (Charlotteville)
Lieut. Donald and Elsie (Simpson) McCall; Martha (McCool) wife of John McCall.
Greenwood Cemetery—Haviland—Waterford
Job and Elizabeth Slaght; Capt John and Sara (Birdsell) Haviland; William and Margaret (Walker) McCool; Abraham and Sarah (Slaght) Mesecar.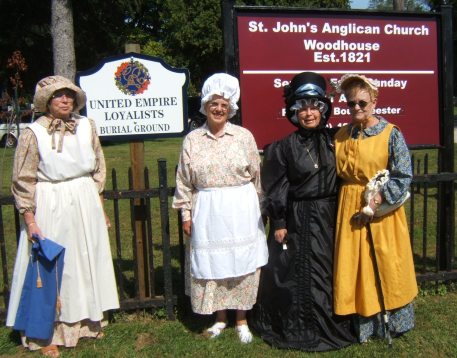 Loyalists in period dress with the new plaque