Loyalist Monuments
Loyalist Bicentennial Commemorative Plaque, Halifax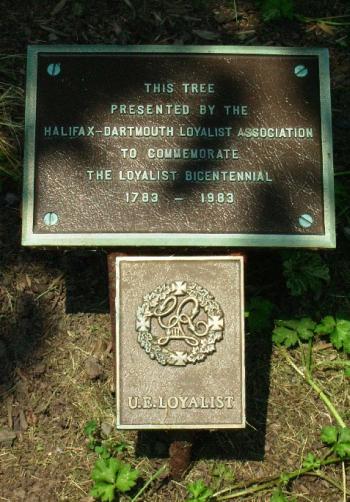 Bicentennial Commemorative Plaque in the Halifax Public Gardens
This small plaque with the UELAC burial marker is next to a tree planted in 1984 in the Halifax Public Gardens as part of the Loyalist Bicentennial.
from Vol. XXII no.2 The Loyalist Gazette December 1984 – page 30
On November 5, 1983 a tree planting ceremony was held in the Halifax Public Gardens. The ceremony was performed by the Honourable John E. Shaffner, Lieutenant Governor of Nova Scotia. Mrs. Mary Gillis, President United Empire Loyalists' Bicentennial Association of Nova Scotia (UELVAN), introduced the dignitaries in Loyalist costumes who included, the Lieutenant Governor, Mayor Ron Wallace of Halifax, Mayor Danny Brownlow of Dartmouth, Reverend Peter Mason, Rector, St./ Paul's Anglican Church and President Ray Blakeney of Halifax – Dartmouth UEL Branch.
President Blakeney stated that we were, in fact, replacing a cherry tree that had been chopped own, over two hundred years go, by a young lad named George Washington.
The inscription reads as follows:
THIS TREE PRESENTED BY THE HALIFAX DARMOUTH LOYALIST ASSOCIATION TO COMMEMORATE THE LOYALIST BICENTENNIAL 1783-1983