Loyalist Monuments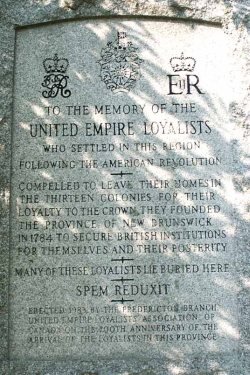 Fredericton UEL Monument inscription
From the Loyalist Gazette – Vol. XX No. 2 – Autumn 1983
A Sturdy Rock – A Sturdy People
by Earle Thomas PH.D.
"A very sturdy rock is an appropriate monument to sturdy people," was Premier Richard Hatfield's comment. The rock, the monument, stands seven feet high in the Old Burying Ground at the corner of Brunswick and Carleton Streets in downtown Fredericton. It bears an inscription to the memory of the United Empire Loyalists who settled in the region two hundred years ago. It was erected by the Fredericton Branch of the United Empire Loyalists' association of Canada in 1983 on the bicentennial of the Loyalist's arrival. "Many of them," the inscription reads, "lie in this burial ground." At least 157 of them are known to be there, according to Louise Hill, Fredericton author and specialist on local Loyalists, and there are many unmarked graves.
The Old Burying Ground in Fredericton is in itself a monument to the Loyalists who settled the town and to the generations who came after them. The first to be buried there was Colonel Anthony Foster in 1787. "My brother John and I," loyalist Hannah Ingraham recollected many years later, "saw the first burying there ever was in the graveyard. It was a soldier, an officer, and we heard the drums beating while we were picking berries there and we ran to see it." Hannah's parents were later laid to rest there, too, along with many of the more illustrious, like the first three chief justices of the province, George Duncan Ludlow, Jonathan Bliss, and John Saunders. Although the Old Burying Ground was Fredericton's only cemetery for many years after 1783, the list of those buried there reads like a muster roll of the early Fredericton Loyalist settlers.
Inscription on the Plaque:
TO THE MEMORY OF
THE UNITED EMPIRE LOYALISTS
WHO SETTLED IN THIS REGION
FOLLOWING THE AMERICAN REVOLUTION
***
COMPELLED TO LEAVE THEIR HOMES IN
THE THIRTEEN COLONIES FOR THEIR
LOYALTY TO THE CROWN THEY FOUNDED
THE PROVINCE OF NEW BRUNSWICK
IN 1784 TO SECURE BRITISH INSTITUTIONS
FOR THEMSELVES AND THEIR POSTERITY
***
MANY OF THESE LOYALISTS LIE BURIED HERE
***
SPEM REDUXIT
***
ERECTED 1983 BY THE FREDERICTON BRANCH
UNITED EMPIRE LOYALISTS ASSOCIATION OF
CANADA ON THE 200TH ANNIVERSARY OF THE
ARRIVAL OF THE LOYALISTS IN THIS PROVINCE