Who/Why/What

Who we are:

We are part of The United Empire Loyalists' Association of Canada (established by Royal Charter in 1914) as a means of bringing together the descendants of those loyalists who left the American colonies at the time of the American Revolution (1775-1783). 35,000 came to the Maritimes resulting in the formation of the Province of New Brunswick. At least 10,000 went to what is now Ontario and Quebec. The Loyalists were multi-racial, multi-ethnic and multi-religious. It is estimated that more than 6 million Canadians today have United Empire Loyalist Roots.
Why we are:

We think of the members' badge as a circle of heritage and friendship across our land. We invite you to become a part of this circle. Record and register your family's role in early Canadian history and their legacy today.
If you believe you have Loyalist ancestry you are likely eligible for Canada's only hereditary honor, the right to add the letters U.E. after your name, as established by Gov. Carleton in 1789. (See Our Heritage on our Home page)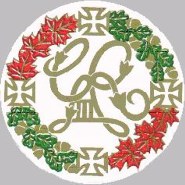 The Members' Badge for all Branches is part of the complete Armorial Bearing and was granted to the United Empire Loyalists' Association of Canada by Queen Elizabeth II on March 28 1972.
The center of the Badge is the Cypher of King George III. The Red Maple Leaves represent Canada. The Green Oak leaves and Acorns are a long held symbol of loyalty to the Monarchy since the time of Charles II. The form of the cross is an earlier symbol of the U.E.L. Association.


What we are:

We offer:


• Four meetings a year (on weekend afternoons) each meeting a Celebration of Heritage with "living history" programs.
• Camaraderie with those of similar interests.
• Prompt replies and follow up for inquiries.
• Genealogical research assistance from experienced volunteers.
• Opportunity of obtaining (upon documentation) certificates as tangible evidence of Loyalist ancestry.
• Participation for all ages.
• Learning more of this important era in Canadian history and its relevance today.
• Access to our library and other sources.
• Networking with other branches, our "U.E.L. family" from sea to sea.
• Six local newsletters a year, "The Link-Up".
• Two issues of the well respected Loyalist Gazette, our national magazine. (with national membership).
• Educational presentations for schools and community groups by members in period dress.
• A wonderful new hobby and an awareness that history can be fun.



Become a Member:

Chilliwack Branch UE Yearly Branch Membership

The fees are as follows:

Individual Membership: $40.00 (to the UELAC) + $15.00 (to the Chilliwack Branch) = $55.00

Family Membership: $55.00 (to the UELAC) + $15.00 (to the Chilliwack Branch) = $70.00

If you already are a member of another UEL Branch, the cost to join our branch is $15.00 for the year.

With your Membership, you receive the wonderful magazine The Loyalist Gazette

and are helping to preserve the history of our country Canada- in particular, the loyalist Era